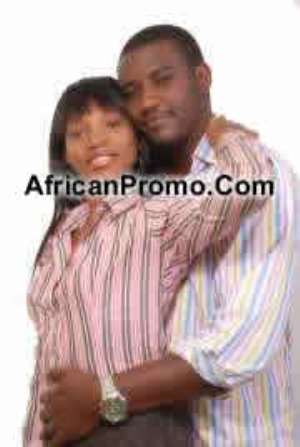 Sources close to the Ghanaian actor have confirmed to AfricanPromo.Com that John Dumelo is due to wed Leonora Okine next year. The Desperation co-stars have been dating for a while now and John is quoted as saying "It is very difficult to find a woman who understands me, my busy schedule and trusts me completely as Leo does". He told his friends how lucky he is that no matter what rumor Leonora hears, she doesn't attack him but instead laughs with him. He respects her strong resolve not to let anyone destroy what they have together.
Findings put together by AfricanPromo.Com indicate that the marriage is scheduled for July 2012. John is currently in London and has already purchased an engagement ring believed to be worth thousands of pounds. The source also confirmed that Majid Michel who is a very good friend of John will be the best man at the wedding. The couple is said to have fallen in love while filming the TV series Desperation in Accra. To avoid public attention they flew to Lagos to clear their heads when they heard rumors that their relationship was about to be exposed.
The couple on their last movie set before John left for London have been said to behave as though they were just friends. They apparently didn't talk much and left separately each day and this is all in the aim of hiding their relationship from the public.
We will like to be the first to congratulate them and wish them a happy marriage.
Story By News Team, AfricanPromo.Com