Lisa says goodbye to Stars of the Future 5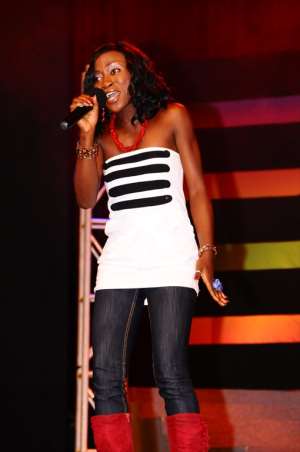 AFTER her not too-impressive showing at the last performance night, she had to swallow the bitter pill of elimination on the second eviction show last night. And now she will watch her colleagues rock the main stage of the National Theater every Thursday amongst the audience.
On the second eviction night, Lisa, Henry and Reynolds named for eviction by host of the show, Jessica. They three were thrown into a sudden state of panic as they got anxious to know which of them would be saying good bye to the competition.
Lisa who performed 'Try Sleeping with a Broken Heart' by Alicia Keys at the last performance appeared the most likely to be eliminated per her showing on that night. The comments from the judges weren't in good taste either.
This was confirmed when the evictee for the week was announced. Lisa becomes the next contestant to fall out of the competition after Asantewaa.
However, Naa Ashorkor Mensah Doku was on hand to present a cake to Kaki and Rauhel on the show. Both contestants celebrate their birthdays within the week.
Emmanuel, Kaki and Kwame were nominated for the Golden Moment Award meaning an automatic exemption from eviction for the week. Kwame came up as the top performer for the week and won the GH 100 at stake.
The exciting music talent hunt show, stars of the Future continues with the third performance night dubbed Ghanaian Music night this Thursday at the National Theater. Admission is free and the show commences at 7PM sharp.
Patrons are encouraged to come out in their numbers to support their favorite contestants and also vote to keep their favorites in the competition by texting their names to the MTN short code 1750.
Stars of the future season five is sponsored by MTN with support from Somovision LG, Close Up, Vodka Kick, Koala, Spa 216, GTP and shows on Television Sunday at 1:30PM on GTV and 3PM on e.TV. There is a repeat show at Mondays, 12.30PM on GTV.
The weekly eviction shows will air Tuesdays at 9PM on e.TV and 9:30PM on GTV. Those who miss the TV series can catch the radio series of SOF 5 on YFM every Monday at 7PM sharp. One can also follow their favorite delegate on facebook.com/starsofthefuture and on the internet at www.charterhouseghana.com/futurestars