March 11, 2011
|
Radio & Television
MIKE EGHAN TO RELAUNCH TALK SHOW ON ETV GHANA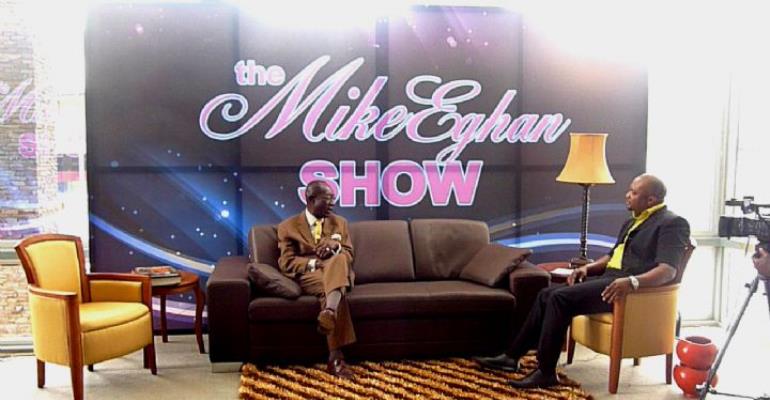 Accra, March 9th 2010: Veteran broadcaster Mike Eghan has announced the re-launch of his successful 1970's talk show, 'The Mike Eghan Show' on etv Ghana. The programme will launch on March 27th 2011. The talk show will broadcast every Sunday from 7pm to 8pm.
Mike Eghan is celebrated for his eloquence in the English Language and also as a performer. He worked extensively with the BBC where the programme he hosted became one of the most laudable achievements ever by a Ghanaian at the time. He also worked with the GBC as the Assistant Program organizer of Live Entertainment. He has been awarded a Grand Medal Civil Division for his praiseworthy service in the media.
The popular 1970's 'Mike Eghan Show' featured an exclusive guest line up including Mariam Makeba, Ephraim Amu and the Captain of Ghana's First Black Star line, Captain Tachie- Menson. It undoubtedly generated a lot of excitement amongst Ghanaians at the time and producers of the new show have said that the new version will be even better.
According to Gideon Aryeequaye, Head of News at etv Ghana, "etv Ghana is thrilled to be introducing the Mike Eghan Show to its portfolio. This move marks a historic moment in the broadcasting landscape as etv is going to showcase one of the Broadcasting ICONS in Ghana's history. We believe in breaking frontiers and it is very symbolic that the Mike Eghan Show has now joined the etv portfolio. Mike Eghan defined broadcasting during his era; he was one of the drivers of social discourse in Ghana."
For his part, Mr. Mike Eghan added that his show "will be based on the premise that everyone has something interesting to say; things which most people overlook. The 'Mike Eghan show' will be unique in that regard and will seek to address a wide range of issues. The aim of this show is to redefine talk show broadcasting and I can guarantee our viewers that we will do just that; there are exciting things ahead.'
e.tv Ghana has already endeared itself to the hearts of many television viewers in Accra with its high quality programming. e.Sports (with Yaw Ampofo-Ankrah), e.News (the channel's flagship news bulletin at 8:00pm with Gideon Aryeequaye) and Be Bold (with Christal Jeanne) are currently among the most watched local television programmes in the capital city.
'The Mike Eghan show' officially airs on etv Ghana on Sunday 27th March 2011 at 7.00pm.
--Ends—