Aplus Outdoors Comedy Show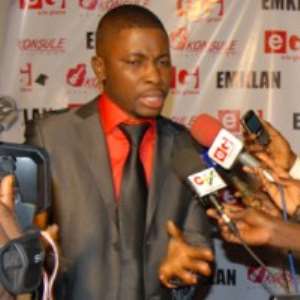 Aplus interacting with the media
Celebrated musician Aplus on Sunday launched his much-anticipated TV show dubbed, 'Aplus Show' at the University of Ghana Drama Studio via rib-cracking jokes and thrilling music performances from Praye, Ruff & Smooth, and Mframa.
The show brought together a number of showbiz names as well as political figures.
It was indeed a night of glitz and a lot of laughter as Aplus took the stage to entertain invited guests with some of his interesting jokes.
His jokes were not just interesting but the crowd was able to relate them. He was introduced on stage by Okyeame Quophi who emceed the night with Eugene Baah, otherwise called Praye Honeho.
After receiving the microphone, he thanked everybody for honouring his invitation.
He then told the audience that he wanted to introduce himself properly by telling them where he grew up and schooled. Little did the crowd know that he was just luring them into an endless laughing spree.
According to Aplus, he comes from a village where there was only one barbering shop.
The shop, he told the crowd, belonged to the head teacher of his school. In front of the shop, he said, was the signboard which read: 'Cut Your Head Here.'
This is when the laughter started. Indeed he thrilled.
If what Aplus did at the launching ceremony was what Ghanaians will be seeing from when his show finally hits the screens, then he is likely to be a threat to David Oscar's Laugh A Minute show on Viasat 1. David has come under a lot of criticisms.
Aplus told NEWS-ONE the show would start airing from this month on eTV and would be the first of its kind on the network.
It would have different segments including music and comedy segments.
Present at the launching ceremony were known faces as Fred Nuamah, KOD, Vicky Zugah, Mzbel, Yaw Sakyi, and Joseph Agbekor. Gabby Okyere Darko, Kofi Capito and Kwasi P among others were also there.
JOT Agyemang of eTV told the audience at the launching ceremony that his outfit was not taking any money from Aplus before airing his show on eTV. His reason was that it was not the duty of the entertainer to pay for entertaining his audience.
Source: Newsone