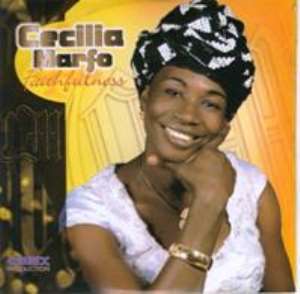 Cecilia Marfo has seven nominations

Musicians, Trigmatic, Cecilia Marfo and Kwabena Kwabena lead the pack with more nominations for this year's MTN Ghana Music Awards released Friday at the Poolside of the Golden Tulip.
Young musician Trigmatic had seven nominations including Hip Hop Song of the Year, Best Rapper of Year, Record of the Year and Song Writer of the Year.
Cecilia Marfo also had seven nominations; Artiste of the Year category, Gospel Song of the Year, Most Popular Song of the Year and Best Female Vocal Performance of the Year.
Kwabena Kwabena on the other hand has six nominations; Best Collaboration of the Year and Songwriter(s) of the Year with D-Black in the song Somebody and Highlife Song of the Year with Cash Unit in the song Yaa Amponsah.
Other artistes who had nominations include Eazzy, Castro, No Tribe, D-Black and VIP who had 5 nominations each and Samini who had 4.
This year's awards ceremony will be held at the Dome of the Accra International Conference Centre on Saturday April 9 but preceding that will be the Ghana Music Awards Dialogue/Workshop and the Ghana Music Awards Nominees Party.
Each winner at the awards will get GH¢1, 000 with the Artiste of the Year winner walking away with a cash prize of GH¢5, 000 Ghana Cedis, an increase from last year's GH¢3,000.
Other special awards to be picked up include Best Music for Development worth GH¢3,000 and the newly introduced special category, Life Time Achievement Award where the winner will get a plague and a cash prize of GH¢ 2,000.



Below is the detailed list of nominations:












Trigmatic also has seven nominations







Public Voting Categories
Artiste of the Year
No Tribe
Cecilia Marfo
Samini
Castro
VIP
Kwabena Kwabena

Hiplife/Hiphop Artiste (s) of the Year
D-Black
Eazzy
VIP
Trigmatic
Castro
R2Bees

Highlife Artiste (s) of the Year
Daddy Lumba (DL)
Kwabena Kwabena
Adane Best
Bless

Gospel Artiste (s) of the Year
Herty Borngreat
No Tribe
Ernest Opoku
Cee
Florence Obinim
Cecilia Marfo

Discovery of the Year
Jay Ghartey
Eazzy
Iwan
Nana Boroo
Trigmatic
Herty Bongreat
Bless

Best Collaboration of the Year
D-Black feat. Kwabena Kwabena – Somebody
Castro feat. Asamoah Gyan (Baby Jet) – African Girls
R2Bees feat. Wande Coal – Kiss Your Hands
Cecilia Marfo feat. Ernest Opoku
Tinny feat. Donaeo – I Need It
Florence Obinim & Princess Ifeoma – God Never Fails
Cee feat. Ampong & Isaac – Halleluyah

Hiplife Song of the Year
Guru – Democracy
Castro feat. Asamoah Gyan (Baby Jet) – African Girls
Akoo Nana – Guru
Nana Boroo – Aha Ye De (Bedia Ewu)
Reggie Rockstone feat. Quabena Maphia – Female Friend
VIP – Away

Highlife Song of the Year
VIP – Gyata Bi
Bless – Meda Enda
Kwabena Kwabena – Dadea Anoma
Daddy Lumba (DL) featuring Sarkodie – Anadwo Ye Die
Cash Unit feat. Benji & Kwabena Kwabena
Daasebre Dwamena – Megya Apem

Most Popular Song of the Year
R2Bees feat. Wande Coal – Kiss Your Hands
Castro feat. Asamoah Gyan (Baby Jet) – African Girls
VIP – Away
Cecilia Marfo – Afunumu Ba
Eazzy – Wengeze
No Tribe – Bohye
Nana Boroo – Aha Ye De (Bebia Ewu)

Afro-Pop Song of the Year
Jay Ghartey – My Lady
R2Bees feat. Wande Coal – Kiss Your Hands
5Five – Move Back
Samini – Sweet Mistake
Eazzy – Wengeze
4×4 – Miss Doctor

Hip Hop Song of the Year
D-Black feat. Dr. Cryme
Trigmatic – My Life
Richie feat. Sway – Intoxicated
Eazzy – Bo Wonsem Ma Me
Asem – No More Kpayor
J-Town – Guns and Roses

Gospel Song of the Year
Herty Borngreat – Odo Ben Ni
No Tribe – Bohye
Ceccy Twum – Nhyira Ba
Florence Obinim & Princess Ifeoma – God Never Fails
Cecilia Marfo – Afunumu Ba
Ernest Opoku – Onyame Di Hene
Cee feat. Ampong & Isaac – Halleluyah

Reggae Song of the Year
Rocky Dawuni – African Reggae Fever
IWAN – Thanks & Praise
Samini B – Tongue Tied
Samini – Trigga
Na U – Independence Day
Sonni Balli – When You're Gone

Best Rapper of the Year
Sway – Intoxicated
J-Town – Guns and Roses
Guru – Democracy
Trigmatic – My Life
Reggie Rockstone – Female Friend

Committee Voting Categories

Album of the Year
Trigmatic – Permanent Stains
Jay Ghartey – Shining Gold
No Tribe – Three (Father, Son and Holy Ghost)
D-Black – Music, Love & Life
VIP – Progress
Cecilia Marfo – Faithfulness
Samini – C. E. O

Best Male Vocal Performance (Solo/Group)
Kwabena Kwabena – Dadea Anoma
Knii Lante – Bo Noo
Ernest Opoku – Onyame Di Hene
Morris D'Voice – Sanku
Nana Fynn – Santrofi
Nacy – Di Kan

Best Female Vocal Performance (Solo/Group)
Efya – Little Things
Herty Borngreat – Odo Ben Ni
Ceccy Twum – Nhyira Ba
Cecilia Marfo – Afunumu Ba
Christiana Love – No Fears
Cindy Thompson – Nhyira Nie

Record of the Year
Samini B- Tongue Tie
Kwabena Kwabena – Dadea Anoma
Efya – Little Things
Jay Ghartey – So Wild
Knii Lante feat. Leboo – Lagos To Vienna
Trigmatic – My Life

African Artiste of the Year
2 Face
Asa
Uche Agbo
K'naan
Meiway

Songwriter (s) of the Year
Asem and Efya
Pastor Boamah
D-Black and Kwabena Kwabena – Somebody
Trigmatic – My Life
Bless – Meda Enda
Kwabena Kwabena – Dadea Anoma

Industry Categories
Traditional Artistes of the Year
Instrumentalist of the Year
Music for Development
Music Video of the Year
MUSIGA Merit Awards
Producer of the Year
Story by Ernest Dela Aglanu/Myjoyonline.com/Ghana