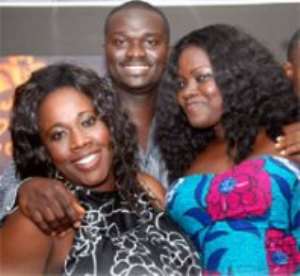 After three episodes of Abiba, the new television series on GTV (Thursdays 8.00pm), its viewership continues to rise just as its predecessors, SunCity, Taxi Driver and Omanbapa did.
Described as full of wit, humour, adventure and drama, Abiba is set in a container shop owned by Abiba, the title character. She is a provisions seller in a typical middle class neighbourhood in Ghana. She sells everything in her shop; groceries, cosmetics, scratch cards and detergents.
Abiba's shop is a melting pot for everyone in the community; the cheating housewife, elderly retired civil servant, the extorting pastor, the fraudulent chauffeur and the flirtatious hairdresser. Abiba is a stabilizing force in all of these.
Enacted in English but interspersed with vernacular, Abiba's allure is excellent and closely captures the ethics of the real Ghanaian life situation.
The strength and style of the the production is its unique blend of somewhat fresh and seasoned actors to give Abiba the desired perfection. The title character, Abiba is played by Ruweida Yakubu of Ghana's Most Beautiful fame.
Other characters are Ivy Adjimah as Auntie Grace (housewife), Kofi Asamoah as Efo Abraham ( retired civil servant), Baffour Adjei as Osofo Joseph (pastor), Emmanuel Abankwah as Kwame Danger(chauffeur) and Judith Asante as Mama Shee(hairdresser).
So far, viewers have been introduced to the fraudulent Osofo, the long suffering Auntie Grace, the femme fatale, Mama Shee, the enterprising dark beauty Abiba , cunning Kwame Danger and his sidekick Skido.
The plot thickens. Can Osofo sustain his con operations? How ruthless can it get? Find out in today's episode of "Abiba" (on GTV at 8pm) titled The Pact.
Abiba is a Dawuro Production and is sponsored by Cliq powered by Expresso, uniCredit and McDan Shipping Company.