Ghana Music Awards spends over GH¢300,000 on artistes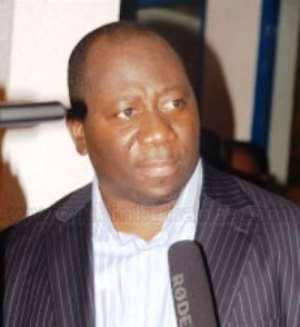 Iyiola Ayoade, CEO of Charter House

According to Charter House, organizers of the annual Ghana Music Awards (GMA), it spends over GH¢300,000 on artists alone each year for the awards festival.
Iyiola Ayoade, CEO of Charter House, revealed in an interview that in 2010, his outfit spent close to that figure on artiste performance fees for the main awards ceremony, and other activation events leading to it. The sum also includes the cash prizes for winners of the GMAs.
He was reacting to some concerns raised that the GMA scheme does not reward Ghanaian musicians enough; beyond the recognition they receive on the night of the awards ceremony.
He said that Charter House remains committed to supporting Ghanaian music and musicians, and he believes that under the prevailing circumstances, Charter House and sponsors are doing the best they can for the industry.
Mr Ayoade said he does not agree with the school of thought that, the winner if the Artiste of the Year nod should also be given a car prize in addition.
According it him, that is not done even in the much bigger international music awards scheme. However, he believes that it wouldn't be a bad idea to give a car prize to the Discovery of the Year winner as a good jumpstart for his/her/their career.
He also debunked allegations that he spends huge sums of money to bring in Nigerian artists to Ghana Music Awards each year. He explained that very often, with the right negotiations and affiliations, he is able to bring these artistes into Ghana on a budget for their flights and accommodation only.
He also added that he doesn't plot to have artists from Nigeria – his home country – win the Ghana Music Award for African Artist of the Year, as has been the case in recent times.
He explained that it was a reflection of the music industry and that Nigerian musicians are usually the most visible or popular in Ghana for that award category.
According to Mr Ayoade, Charter House in committed to giving the public a good show each year, and the 2011 edition of the awards would even be better.
He said his company is doing everything necessary to improve the content for this year as well as improve security at the venue, which was a major challenge last year.