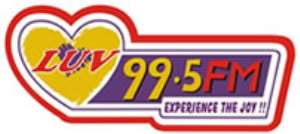 Family reunion and socialization came alive at the KNUST Botanic Gardens in Kumasi with the maiden New Year Family Party in the Park event, organized by Luv FM.
The Multimedia team in the Garden City lived up to expectation, treating patrons of the families' day out to great entertainment from 8am to 6pm.
Hundreds of family units from Kumasi and beyond trooped to the Botanic Gardens to share in the fun of the family socialization. There were others who came with friends, colleagues at work and other acquaintances.
It was a day wives attempted to beat husbands in table tennis; children outplayed their peers in games; mummies tore daddies apart in the tug of war battle; whilst grannies taught the young ones how to excel on the dance floor.
The bouncing castles, horse riding and cotton candies corners attracted the attention of the kids; the youth fraternized and made new friends; as parents observed things, supplied all needs to keep their units excited and took notes of new trends!
Families were also engaged in photo sessions at the stream flowing through the botanic gardens, apparently to keep memories of the legendary Okomfo Anokye, who is said to have walked through the stream – and imprint of his footsteps are engraved on the rocks!
Ghanaian hiplife poet, Okyeame Kwame brought the activities to a successful end, with some spectacular tunes performed with a live band. Like many of the family heads who joined in the fun, Kwame expects the party to feature regularly, especially during festive occasions.
The objective of the "Family Party in the Park" initiated by Joy FM, is to create quality fun for families – to hang out, network and socialize amidst good food, drink and music.
The success of the Ashanti regional edition, coming at the heels of the two previous events in Accra, indicates the Party will roll on in the years ahead.
Sponsors for the Luv Fm Family Party in the Park include Golden Dish Catering Services, Topson Enterprise – importers of Miss African Jasmine Rice, Salibrad Digital Photos and Video Studio as well as Multi-Tv.
Story by Kofi Adu Domfeh/Luv Fm/Ghana