November 9, 2010
|
General News
Miss Ghana Rep To The Miss World Mimi Areme Back In Style
Authour Gossip Mama - GhanaCelebrities.com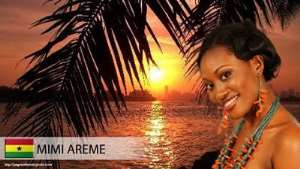 Miss Mimi Areme
Ghana's representative at this year's Miss World beauty pageant competition Mimi Areme has arrived back home, after pulling off a sterling performance at the world's most prestigious pageantry.
Held in the beautiful Chinese town of Sanya, the event saw the fair-skinned Ghanaian lady excel in two of the show's fast track events leading to the finals.
Mimi, who jet into town last week, qualified into the Top 20 of the Beach Wear segment and placed a respectable second position in the Beauty with a Purpose segment, with her project work on Child Trafficking in Kete Krachi in the Volta Region.
Mimi was met on arrival by friends, sympathizers, well-wishers and officials of Media Whizz Kids, organizers of the Miss Ghana beauty pageant, her link to the world event.
She expressed her appreciation to the Ghanaian public for their support all throughout the competition, adding that the prayers of every single well-wisher helped her in achieving those feats in Sanya, China.
Mimi said: 'My appreciation goes out to all those who made it possible for the Sanya dream to come alive. Their support throughout my stay in the competition helped a great deal'.
She disclosed the joy that met her performance at the event, adding that she received special praise from the organizers of the Miss World event, who lauded her 2nd placed position in the Beach Wear segment.
'They were really happy for me since according to them this was the first time a Ghanaian came that far in the Beach Wear segment. That was the motivating factor that kept me going,' she said.
She promised to fully concentrate on her project work which she hopes, will enable her salvage the children on the Volta Lake from the claws of their slave masters.
The twenty-something year old rose to local fame last year when she won the 2009 edition of the Miss Ghana competition.
She got herself busy after the event doing her project work, a fight on Child Trafficking, jointly embarked upon with the International Migration Organization (IOM). Mimi's assiduity in handling her project work, a very sensitive social issue, earned her enormous local and worldwide appeal.
Mimi's trip to China was made possible by Media Whizz Kids.
Source: Obed Boafo