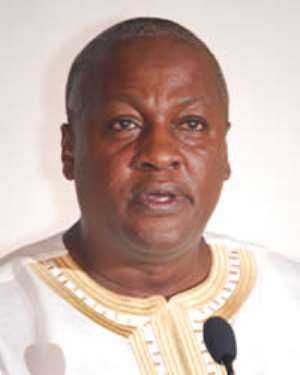 Vice President, John Dramani Mahama

The Vice President, John Dramani Mahama has called on associations in the creative sector, movie, music and the arts, to take advantage of government's support for the sector.
"We have come out with a private sector development programme which is spear-headed by the Ministry of Trade and for the first time, creative industries are recognized as a major part of the private sector that requires funding and assistance...," he revealed.
The Vice President urged all associations in the sector to form a united front to be able to reap the full benefits of the new programme government has put in place.
"To be able to leverage the kind of support that you want, I encourage our associations in the creative industry sector to be one united whole. I notice that there are a lot of fragmentations on your front; everybody wants to form a new actors' guild and the kind of support that you should spear-head behind one body, we are not seeing that kind of that support...," he urged.
He expressed his delight about the industry bouncing back on its feet after what he says was a downturn in the 70s and 80s, owing largely to the country's economic crisis.
"Government is willing to support [it to grow more]" John Mahama said.
He made these comments at the launch of Smarttys People Magazine and Televisions series, and the premier of the CEO movie at the Golden Tulip Hotel Saturday.
The magazine, TV series and CEO movie are products of Smarttys Management & Production spear-headed by Selassie Ibrahim, an actress who also stars in the CEO movie and hosts the Smart People television series.
The CEO movie also stars Nigerian movie star, Desmond Elliot and Nadia Buari alongside other young and well known faces in the movie industry.
The event also saw some of the crème de la crème in Ghana in attendance. Notable among them were the second lady, Mrs Lordina Mahama, Charles Kofi Wayo, Dr Kofi Amoah, former Minister in the Kufuor administration, S.K. Boafo, Nadia Buari, Akorfa Asiedu Ejeani, Abi Adatsi just to mention a few.
The premier of the movie was preceded by an auction of copies of the magazine with the first copy going for GHc1000. Dr Kofi Amoah bought a copy for GHc2000 with the Vice President also paying GHc3000 for copies.
The high class event was not only a splendid one, it also holds the record as the only movie premier in Ghana to have been attended by the Vice president and other notable personalities.
Story by Ernest Dela Aglanu/Myjoyonline.com/Ghana