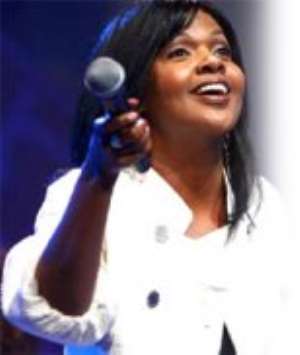 Cece Winanas
Adom FM has been busy pulling down billboards meant to promote American gospel singer, CeCe Winans' abortive August 7 Adom Praiz 2010 concert but that is because new ones are scheduled to go up very soon along major roads in the Accra-Tema metropolis to announce the rescheduled date of Wednesday, November 17.
The Adom FM team has been bubbling with excitement over the last few days following concrete confirmation of the date from the CeCe Winans team. The Tema-based station says it has fleshed out all grey areas in the new contract with CeCe Winans' management to ensure a successful show on November 17.
Adom Praiz 2010 was originally scheduled for Saturday, August 7 but was cancelled barely 24 hours for the curtains to go up, following the inability of CeCe Winans and her 14-member band to fly down from the United States to Accra due to challenges in flight schedules.
A strong guarantee in the new contract, according to the Events and Promotions Manager of Adom FM, Ricky Anokye, is CeCe Winans arriving in Ghana on Tuesday, November 16, to promote the show through live radio and television interviews.
This new arrangement, Anokye said, would hopefully forestall the recurrence of the challenges that forced the cancellation of the August 7 date.
The Chief Operating Officer of the Adom Division of the Multimedia Group Limited, Klaus Vonbackustein, pointed out that Ghanaians love good quality shows and are ready to patronise a well-organised show, irrespective of when it comes off.
" Adom FM is ready to package a thrilling gospel show on a Wednesday to demonstrate that you cannot put entertainment programmes in a strait jacket," he stated.