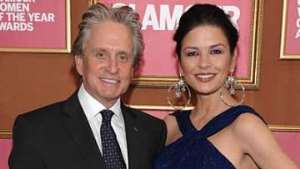 Catherine Zeta Jones with husband Michael Douglas who is battling throat cancer

Catherine Zeta Jones has told the Prince of Wales how proud she is of her Hollywood star husband's battle with cancer.
The actress gave Charles an insight into her anguish for Michael Douglas, as she greeted thousands of Ryder Cup fans in Wales.
Oscar winner Zeta Jones, 41, welcomed guests on Wednesday at the start of a gala Ryder Cup launch concert at Cardiff's Millennium Stadium.
Before taking to the stage, she spoke to the Prince and almost broke down talking of her pride in her husband's continued fight against the disease.
She also revealed he was responding "very, very well" to his treatment.
"Well, wish him all my best. Positive thoughts," Charles said in parting.
The Prince attended the concert after spending the day touring the Celtic Manor Resort in Newport, which is hosting the tournament.
An all-star line up at the concert included Dame Shirley Bassey and Katherine Jenkins.
Swansea-born Zeta Jones wowed the audience, appearing in a stunning scarlet gown - but told the Prince she would immediately be re-crossing the Atlantic to be with her husband.
Golf fan Douglas, 66, had planned to attend the Ryder Cup, which takes place over three days from Friday, with his wife.
But he was forced to remain in the US as he continues to receive treatment for a tumour.