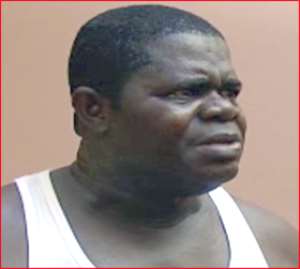 Psalm Adjetefio
Ghanaian Actor Psalm Adjetefio, widely known as 'T.T' from the Ghanaian TV sitcom 'Taxi Driver', has told NEWS-ONE the conditions under which he would expose his buttocks in any movie.
Adjetefio, an actor with enough body, was responding to talks that he had played some sex roles in a new movie entitled 'Adults Only'- another controversial production from the stables of Socrate Safo.
"The fact that I played a sex role does not mean I would expose my nakedness or show my buttocks in a movie.
My buttocks are not cheap and any producer who wants me to strip may have to pay an amount of money heavy enough to last till even my great grandchildren grow to reap the dividends.
"I played the role to teach people how to make their homes better. It was all about preventing broken homes…the movie is not as scandalous as people think and truth is I did not have sex with the lady…in playing such roles, things may happen but I can tell you that nothing happened between us," Adjetefio explained.
The actor did not agree to an assertion that acting in a Socrate Safo movie was below his caliber and status as an actor.
"I do not see it that way. The truth is that I played that role because he was ready to pay me and I am an actor; that is my job so once the story was good and the pay was not bad, I agreed. What else should I have done to earn a living?" he noted.
Psalm Adjetefio disclosed that he would soon enroll in a seminary to become a full time priest of the Anglican Church and that currently, he is preoccupied with spreading the word of God as a lay-preacher.
"I strongly have that passion to become a pastor.
The call has always been there and I have lost many opportunities that came my way simply because I was refusing to listen to what God was asking me to do and was doing my own thing.
"I have come to a final conclusion that I must work for God and currently I am settling a few thorny family issues, after which I would enroll in a seminary," Adjetefio disclosed.
Source: Newsone