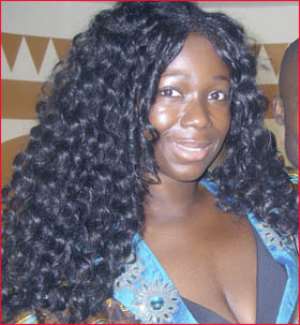 Ama K Abebrese
AMA K. ABEBRESE, lead actress in Leila Djansi's yet-to-be release movie titled 'Sinking Sand', says Knaf Couture, one of Ghana's top fashion houses, will be responsible for her attire for the premiere of her first ever movie.  
It is not quite clear what style of cloth she will be wearing but Ama told BEATWAVES that "you just watch out for me. I love African cloths and Da Viva is one of our sponsors. So I will definitely wear African cloth.
Designer Knaf couture is making me a gorgeous dress and I can't wait for that. The red carpet will be blazing."
Knaf Couture was established in November 2008 by Kayda Nana Afriyie Frimpong in the United State of America.
Afriyie recently relocated the company's home base from the United States to Ghana and within that short period, she has managed to raise eyebrows in Ghana's fashion industry.
Among some of her clients are young personalities such as Jane 'Efyah' Awindor, Ama K Abebrese and Lydia Forson.
However, Ama K indicated that she is really planning for the premiere which is scheduled for November 13 at the National Theatre in Accra. Even though she has all the opportunities to see the movie before the main premiere, she says she would not.
The British stage actress said she can only watch the movie during the premiere. Her reason, she explained, is because the trailer of the movie alone brings back some memories she does not want to battle with ahead of the movie's first public screening event. She prefers such memories to hit her on the day of the premiere.
"We will be going for post production for the sound and I need to watch bits of the movie to do audio recording. Leila has been forcing me to watch the movie first, but I told her that the first time I will want to watch this movie will be at the premiere.
This is because I can't even watch the trailer at times. It brings a lot of emotions playing this role. I also want to feel the emotions people will be expressing while they are watching the movie at the premiere.
You know all the noise and cheers. You know how the National Theatre gets like when movies are premiered?
The first time I want to watch the movie I want to experience that and then see how I will feel like.
When I even watch a little bit of the trailer now, it brings back too many memories. I can't watch it now, I want to hold on," she stressed.
Ama K. Abebrese has a lot of expectation about her upcoming movie. According to her, she hopes to see "a wonderful piece of work. I am expecting to see a movie that will make me cry.
I am expecting a movie that will make me laugh, I am expecting a movie that will make me think about what the word abuse is.
I expect a movie that is essentially going to bring out a little bit of emotion. Ultimately, I expect a great cinematography that Ghanaians can be proud of, Africa will be proud of, the world will see and say wow, its good."
By Francis Addo