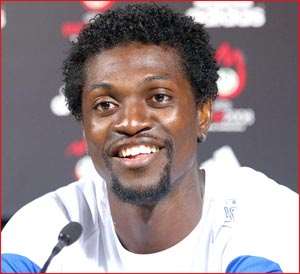 alse
Emmanuel Adebayor DAILY GUIDE SPORTS has gathered that Manchester City striker and former Togo international Emmanuel Sheyi Adebayor will soon set up a new radio and television station in Ghana.
The station, which will be located in Accra and managed by a popular Ghanaian DJ, will have sports as 70 percent of the programme content, while 30 percent will be entertainment.
Adebayor, 26, was one of the players in the Togo national team bus when it came under gun-fire attack at Cabinda, Angola, in the lead-up to the 2010 Nations Cup.
He retired from international soccer a few months ago, but there is widespread speculation that he might return to feature for the Hawks of Togo very soon.
Adebayor, who joined Manchester City in July 2009 after playing for AS Monaco and Arsenals, was voted BBC African Footballer of the Year in 2007.
According to the striker, he is setting up the TV and radio station because he owed so much to Ghana.
He disclosed that he spent the most memorable parts of his childhood at Newtown, Accra, where he went to school, and a project like a radio and TV station is his way of paying back to Ghana.
By Jeffrey Douglas