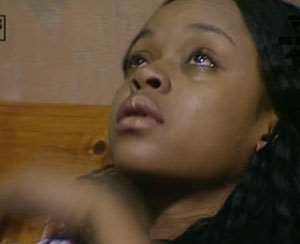 Jen sobbing after she entered the Barn

Jen (Jennifer), Big Brother All Stars representative from Mozambique became the ninth Housemate to be evicted from the Big Brother House to the Barn Saturday.
This comes after a relatively tough week for the Big Brother All Stars reality show which saw the disqualification and the subsequent eviction of Ugandan representative, Hannington from the show after his fight with Lerato.
This week, Jennifer (Jen) and Munya were up for eviction after Head of House, Uti replaced himself with Munya.
Munya who has survived eviction for the sixth time will be staying a bit longer as he is the Head of House for the week.
Of the remaining five Housemates, Kaone is the only Housemate yet to be nominated for eviction since his fake eviction in week one of the show that saw all the Housemates coming up for Eviction.
As per the rules of the game, Jen who did not receive any Dagger threw this week's Dagger at Uti. The Dagger prohibits Uti from using any swear words for one week.
Story by Ernest Dela Aglanu/Myjoyonline.com/Ghana