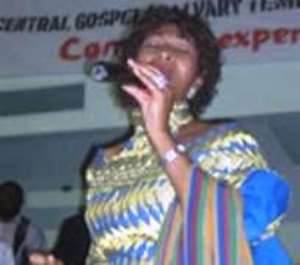 Mary Ghansah

Veteran gospel musician, Mary Ghansah is set to perform at the Calvary Temple of the International Central Gospel Church (ICGC) at Sakumono as part of activities lined up for the church's maiden women's week celebration.
The celebration, which is on the theme A Woman of Honour, a Woman of Positive Influence, is from September 19 to September 26 and would embrace music and dance as well as a health walk, screening for hypertension and diabetes, a bazaar and capacity building workshops.
In an interview with Showbiz, Mary Ghansah, who has not been seen much in public after the release of her Jesus album in 2005, said she was excited to be associated with the programme. She promised patrons an exciting show, the type that made her the reigning gospel queen in the 1990s.
Mary Ghansah, whose first outing on the music scene was in 1988 with her Onyame Osayeyi hit, has over the last 22 years provided inspiration to many young gospel artistes.
She is currently studying for a degree in Theology and Management at the Glory Leadership Seminary and hopes to go into the studio soon with Nacy to record a new album.