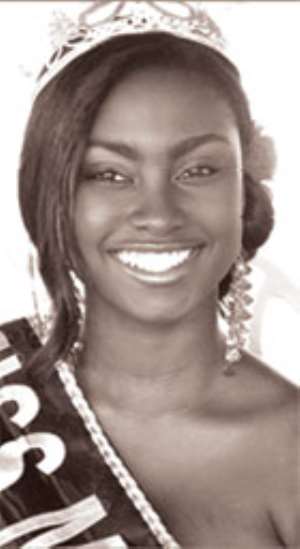 Gezelle Adai, Miss Malaika 2009
Competition at this year's edition of Miss Malaika Ghana is set to enter its eviction stage shortly, and this is where delegates' creditable performance at assigned tasks and impressing viewers will count -It's crunch time!
This Sunday on GTV at 2:30pm  and on TV Africa at 8:30pm, viewers will have the advantage of keeping their favourite candidate in the competition till the finals, by voting for them on the short code 1758 on MTN and all other networks.
Even as the ladies enjoy themselves, they are reminded of the eviction exercise that looms large over their heads every single day. Soon, one delegate will be axed from the competition and viewers are encouraged to watch the series and vote for their favourites, to have a better chance of staying another week.
Chances are that, the votes from fans will push contestants far, although the godmothers have the unique responsibility of either keeping a contestant that is up for eviction, or decide that the journey to the crown has ended for the delegate.
There is also an ongoing 'Text N Win' competition that will run alongside the Miss Malaika competition.
One lucky viewer will win a once in a life time trip to Egypt, courtesy Egypt Air, with the final 10 delegates, as they visit the land of the Pyramids and Pharaohs for a once in a live time experience.
It is a win win situation for both delegates and viewers.
The pageant will see one lady drive home a brand new KIA Cerato and all those excellent sponsors' prizes, including a Year's Contract as a Charity Icon for MTN, the leading telecoms network in Ghana, and the one lucky texter gets to go to Egypt.
Also supporting the series is First Choice, UB Hair Relaxer and Sultana Tomato Paste.