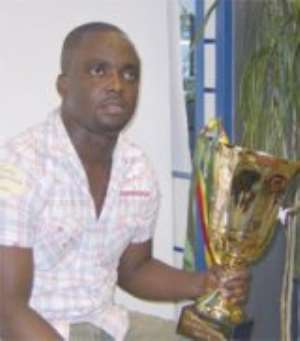 The Man Ghana 2010 Bodybuilding Championship will be launched at the True Vine Lodge in Kumasi at 6p.m. tomorrow.
The official launch will pave the way for the national event which takes place in Kumasi for the first time in the history of the championship.
The event is being organised by the Ghana Bodybuilding and Fitness Association (GBFA) whose president, Abdul-Hayye Yartey, revived the sport at the national level a few years ago.
According to the Communications Director of the GBFA, George Fausta Baffoe, Saturday's launch will be preceded by the Ashanti Regional qualifiers for the Man Ghana contest in the morning.
He disclosed that the qualifiers would be without the reigning Man Ghana, Kofi Salia, alias Asase, who hails from Oseikrom.
Mr Baffoe anticipated a hectic time for the judges following the high level of preparation some of the known bodybuilders in the region had had so far.
He noted that some of the top bodybuilders were already boasting of dethroning Asase at the national championship on September 4.
Sponsors for the event include True Vine Lodge, Voltic, Melcom, Marbon Hotel, Abusua Restaurant, Hasta Hotel, Chariset Hotel, Royal Lamerta Hotel, Cozy Lodge, True Vine Lodge, ANF Hotel, Homeland Travel and Tours and Ultimate Fashions.
In a related development, the Greater Accra qualifiers will take place at the Ohene Djan Stadium next Saturday, August 28.