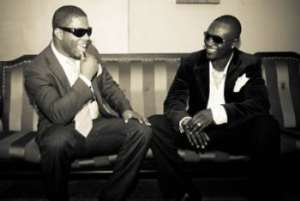 D-Black and Kwaku-T

D-Black da Ghana Bwouy and Kwaku-T, Ghana's most celebrated Hip-hop duo have topped the Ghanaian nominee list for the 2010 Channel O Music Video Awards with 2 nominations.
They came 2nd in total African nominations, coming second to K'Naan of the hugely popular Wavin Flag song who leads the pack with 3 nominations.
After being nominated last year for their first video Move off their Target album at the same awards in the Best West African Video category, D-Black and his rap partner ,Kwaku-T went on to be nominated for their second video Breathe ft. Jay So at the 2010 Museke African Music Awards for Best African Video and Hiphop Song of the year at the 2010 Ghana Music Awards.
This made them the first English rap artistes to be nominated in the 11 year history of the Ghana Music Awards which also saw them winning Music Video of the Year award for Breathe directed by Gyo Of Phamous Philms.
D-Black and Kwaku-T top the Ghanaian nomination list at this year's Channel O Music Video Awards to be held in South Africa, with Breathe nominated twice in categories Best African Video 2010 and Best Hiphop Video 2010.
Other nominees from Ghana include Samini nominated for Best Dancehall Video for Sweet Mistake, Becca for Fire in the Best West African Video category with new comers Jon Germain getting a nomination for Best RnB Video for In my Head and 2008 M.C Africa 1st Runner-up, J-Town in the same category as Becca for his Guns and Roses video.