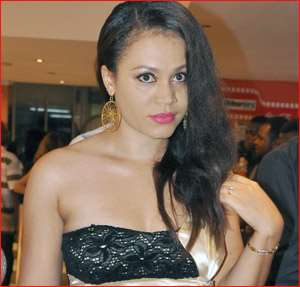 Nadia Buari
NEWS-ONE has not known peace after last Wednesday's publication  that  rumours making the rounds in entertainment circles indicated that Nadia Buari, a movie-goddess of immaculate beauty, is in a love relationship with Ghanaian international footballer André Dede Ayew.
Soon after the story hit the news stands, NEWS-ONE's office was inundated with several calls from persons who claimed they were very close to the Buari family and were very disturbed about the story.
The callers accused the paper of deliberately putting out what they described as negative stories about Nadia so as to tarnish her reputation and prevent her from getting a husband.
Though Nadia has refused to speak to NEWS-ONE, both before and after the story, sources say the actress has denied ever dating any other footballer aside Micheal Essien and categorically stated that she had never ever been in a relationship with Dede Ayew, a footballer who she is about seven years older than.
NEWS-ONE has also gathered from family friends that Nadia is betrothed to a well-known Ghanaian currently domiciled in the U.S. Both the Buari family and that of this well-known Ghanaian currently domiciled in the U.S are said to have had several meetings and agreed on a wedding date slated for the end of this year.
"This is Ghana and when such stories are going round about you, it becomes a problem because you may have people misinterpreting the reports and then calling the man to tell him all sorts of things, especially when he does not stay in Ghana.
"I can't tell you his name for now but he is a very well-known man; someone almost every child on the street knows and has heard the name before," one of the family source noted.
She said it was not true that the man about to marry Nadia was in the showbiz industry.
"The other time too you said she had a daughter and that Essien had taken her car so she was driving her father's car and so on…Nadia does not have a daughter, we have been with  her since she was born in Takoradi and she has never given birth before.
"Nadia does not really need a car or a house from Essien because she has several cars and lives in her own house she bought at East Legon; she has two houses," the family source added.
Interestingly, Nadia did not still pick her phone when NEWS-ONE called yesterday to speak to her. A text message sent to her phone was also not replied.
However, in an earlier interview with NEWS-ONE on plans on her  marriage some months ago, Nadia explained that though her fans would want to know what went on in her life, the media should be cautious and respect her privacy, saying she considered matters concerning her relationship private.
"I feel that part of me is very personal, very private so it should stay that way. What I am bringing to the public is the movies. It is what I am doing, my career is my job.
That is what we should be talking about. I don't like to talk about my private life and so I don't want my private life out there.
"I am extremely quiet because I am a very shy person. You will never know me until you get close to me and you will know the kind of person I am," she noted.
NEWS-ONE can also report that Nadia, daughter of Ghana's music icon, Alhaji Sidiku Buari, has released an ultra-modern luxurious SUV Lexus RX 350 believed to have cost about US$100,000.
She is also reported to have customized the registration number plate of the vehicle to suit the initials of her name. The registration number, 'NSB -210', is believed to stand for Nadia Sidiku Buari.
The vehicle gives Nadia a heavy 'swag', especially, when rumors were rife that she did not have a car because Michael Essien had taken back a saloon car he bought for her.
That speculation had however not been substantiated but what is clear is that Nadia and Essien are no more in a love relationship.
Nadia, in recent times, had been wearing a sparkling ring on the ring finger of her left hand at a number of official programmes, though she decided to keep the issue of her supposed marriage under wraps.
"It's my little secret. I'm not sharing that...," was all Nadia Buari told myjoyonline when she was questioned about the ring.
Source: NewsOne