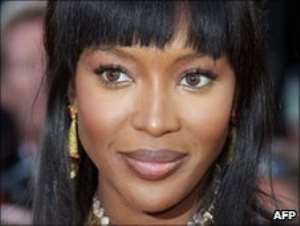 Campbell was snapped sitting next to DiCaprio, who starred in 2006's Blood Diamond

Naomi Campbell put the troubles of her war trial testimony behind her to attend a star-studded party in Italy on Sunday - alongside Blood Diamond actor Leonardo DiCaprio.
Last week, the catwalk queen took to the stand in The Hague, Netherlands to give evidence in the trial of former Liberian president Charles Taylor.
He is alleged to have given the supermodel blood diamonds - illicit gems sold to finance conflicts - at a dinner party at Nelson Mandela's home in South Africa in 1997.
Although she admitted receiving "dirty looking pebbles" from two unknown men during the night, Campbell insisted she did not know who they were from until breakfast the next morning, when her then agent Carole White and actress Mia Farrow told her they were probably sent by Taylor.
Both Farrow and White contradicted her testimony on Monday, insisting it was Campbell who suggested the gems were from the Liberian leader and that she was "excited" about receiving the gift.
But the beauty refused to allow the controversy to interrupt her partying lifestyle - she jetted to Sardinia for an evening at the exclusive Billionaires club in Porto Cervo at the weekend.
The model was alongside a host of famous faces, including Kevin Spacey, Janet Jackson and Formula One racing boss Flavio Briatore.
And ironically, the model was snapped sitting next to DiCaprio, who starred in 2006's Blood Diamond - a film set during the Sierra Leone conflict Taylor is accused of financing with illicit jewels.