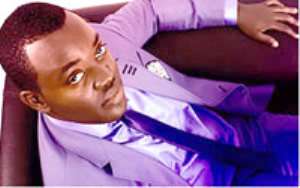 Jon Germain
The premium entertainment show, Allo TiGO, has launched a new music reality show. The show, dubbed Kings and Queens of the Underground, is the first of the series of improvisations made by the Chartered Institute of Marketing Ghana (CIMG) nominated program.
The show, which seeks to bring the dreams of two lucky individuals seeking to make an impact in the music industry into reality, is a concept masterminded by the Allo TiGO and XFM presenter, Jon Germain, and his team.
In a recent interview, Jon explained the motive and prospects that the project holds.
'I brought this project up, because, everyday people walk to me and give me their demo tapes, and say please help me get a producer, so I thought why not? And that is why I came up with this, with the help of my team.'
He further expatiated on the processes involved in the project, and how one could be part of it.
'All you need to do, is pick up a form at Metro TV for GH¢50, then simply drop your demo tape. In cases where there is a lack of a demo tape, you can just record your voice or your rap, or whatever it is you have to present on a phone, and put it on a CD, and drop it at Metro TV.
A competent team of judges will then sit and vet all the materials presented, and choose two lucky winners. It is open to all groups, individuals, rappers, singers, whatever genre of music you do is welcome.'
The package for the two lucky winners includes 5-track production from ace producers Kaywa and Appietus, one free video shot, video shown for three months on the Advertising Cycle on Metro TV, airplay on XFM and other radio stations.
The winners will also enjoy interviews on Allo TiGO and other entertainment platforms, and finally, video shown on Channel O and MTV Base.
The reality show, which is currently ongoing, will end in August, by which time the winners will be declared, and their prizes given to them.