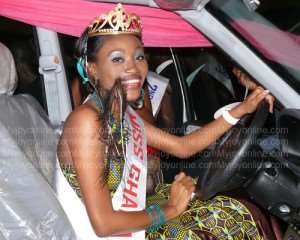 Miss Ghana 2009
The 2010 edition of the annual Miss Ghana beauty pageant was launched at Citizen Kofi, Osu.
The rejuvenated beauty pageant was launched in the presence of sponsors, donors and specially invited guest.
After exchanging pleasantries, the host Kwame Sefa Kayi apologized for the late start of the program.
Now it is no news to talk about a late start of events in Ghana anymore, that phenomenon has become part and parcel of us. I guess it has come to stay with us.
Per the development of the pageantry industry, Miss Ghana 2010 comes with few changes to conform the global trend. The organizers have decided to separate the Miss Ghana from the National Dance Championship. This, according to personnel from Media Whiz Kids will enable them leverage the full potential inherent in each other separately in conformance with current trends in both beauty and dance.
The country has been divided into 4 zones as follows:
Zone 1: Northern, Upper East and Upper West Regions
Zone 2: Brong Ahafo and Ashanti Regions
Zone 3: Central and Western Regions
Zone 4: Eastern, Volta and Greater Accra Regions
20 young intelligent ladies will be selected to compete for the Miss Ghana 2010 crown after auditions has been held in each of the 4 zones. As part of the changes for this year's event, auditions and activities for the 20 ladies will be broadcasted on television on GBC (GTV) and eTV Ghana.
The prizes for this year's pageant have also been reviewed. Due to the fact that some of the prizes presented to the ladies are not relevant to their lives. Counseling and guidance will be an integral part of the selected contestant for the event.
In addition to the car, cash, products and service offers, the 4th to the 8th winners will be trained in Microsoft Office as part of being in this year's pageant as well as internships with the sponsors.
The grand event will take place on the 30th October this year at a venue to be announced later. Consequently, Mimi Areme, Miss Ghana 2009 will represent the country at the Miss World event in China later in the year.
Story by Ebenezer Anangfio Jnr./GhanaCelebrities.com/Ghana