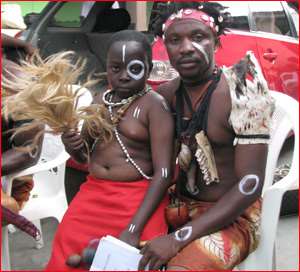 Kaakyire Kwame Appiah and Joe Shortingo
TOP MUSIC icon-turned-actor and movie producer, Kaakyire Kwame Appiah, and actor Joseph Pamfoe, otherwise called Joe Shortingo, are in an alleged bizarre spiritual warfare with a certain fetish priest of Odambo, a village in the Central Region of Ghana.
Sources told BEATWAVES that the actors are currently seeking the services of pastors for their dear lives.
The alleged fetish priest, in earlier reports, had allegedly given the producer and his crew of over a 100 actors, including Joe Shortingo, 10 days to live on earth.
This was after they had shot a movie in the said village. gods of the village were angry with the producer and his crew because they did not seek permission from the fetish priest or spiritual leader of the village before shooting the movie titled 'Owuo Safoa.'
Indications are that activities of the movie crew contravened the taboos of the gods of the village.
Though no death occurred after the 10 days period, there had been reported cases of sicknesses and an actress who fell into a coma but was later revived.
Kaakyire and Joe on Tuesday confirmed claims that they had been seeking help from pastors.
They told BEATWAVES that for the past 6 months, a number of things had been happening. This gave them the impression that the fetish priest's curse was truly after them.
Besides the reported sicknesses and abnormal behaviours of some crew members, Kaakyire said they had a hell of time working on the movie in the studio.
He said they had tried to finish works on the movie long ago but anytime they finished editing it, the edited copy will disappear from their computers. "It is surprising.
We had to call different pastors to pray for us before we got the final product," he said, asking  Ghanaians to say a prayer for him and his crew as the movie will be released into the market on Monday.
He also advised Ghanaian movie enthusiasts to get a copy to have a feel of his first movie.
The movie is a fictional but epic story of the importance of death in the lives of human beings, even though not many would appreciate that.
It tells the tale of indigenes of a certain village who sign a deal with death, not to die again. It however gets to a point where the villagers just keep aging.
As the hardship of old age hits them, they start clamouring for death, but to no avail. The deal with death is irreversible, and what transpires needs to be seen by all.
 By Francis Addo