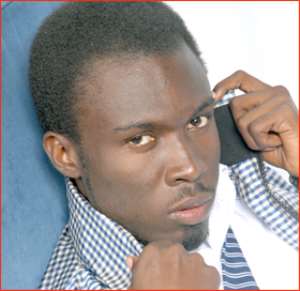 Kobi
Grapevine information gathered by NEWS-ONE indicates that tension is mounting between two Ghanaian actors, Kobi of Rana fame, known in private life as Cornelius Phanthomas, and Eddie Nartey, which is gradually affecting their long-standing relationship as best friends.
The bad blood between them, according to sources, was the main reason why Kobi refused to use Eddie in his yet-to-be-released movie titled 'Crazy', despite Eddie's sterling performance in his first movie, 'Kiss Me If You Can'.  
While some close pals say the bad blood was generated by their amorous attachment to a known actress, others say the disagreement is due to a fracas they had prior to the premiere of a movie over tickets and date for the premiering.
The said actress played an instrumental role in 'Kiss Me If You Can.'  
The two actors have been around for quite some time and have featured in quite a number of movies.
Eddie's first movie was 'Wedlock Of The Gods' by Venus Productions and since then, he has not looked back, and has featured in over 15 movies aside those yet to be released.
Eddie Nartey 'The King Is Mine', 'Crime To Christ', 'Tears of Womanhood', 'Agony of the Christ', 'Passion & Soul',' The Bible', 'The Eyes of Husband', and 'Girls Connection' are just a few. 'Dagbana' by Tarch House Production is his latest movie.
Kobi, on his part, tried to produce a television series after high school but he could not due to lack of funds. That did not discourage him from achieving his dreams.
He attended several auditions, approached some producers and wrote more scripts. Finally, when he entered the University of Ghana to pursue a course in English and Theatre Arts, he deemed it a 'do and die' challenge.
He attended an audition at Revele Films for 'Home Sweet Home' but could not get the role but he presented some of his scripts to Emmanuel Apea Jnr, the director who gave him more training in script writing. In his second year, he won a role in the hit 'Hotel St. James' also by Revele Films.
That marked the beginning of his success in the movie industry. He was in 'Fire For Fire', 'Agyapadie,'  'Sakawa Boys aka Mallam Issah Kawa' by Socrate Safo. Kobi continued to write for other producers till he received a call from Mahmuda Salley, the executive producer of Muda Films.
He directed 'Kiss Me If You Can' and the upcoming movie 'Crazy' for Muda Films.
NEWS-ONE is following the developing 'romantic battle' between the two and will bring the details as and when they unfold.
Source: NewsOne