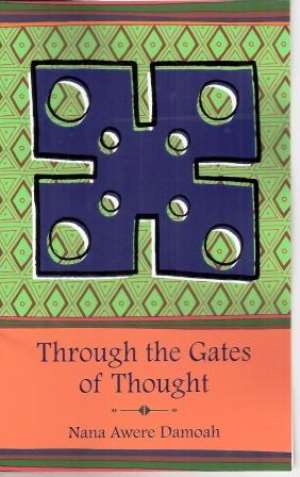 Deep thinker, Nana Awere Damoah is fast becoming a prolific writer in the area of his peculiar style of writing. His stimulating brand new book, 'Through the Gates of Thought' is an eclectic collection of stories, articles, poems, which touch various aspects of everyday life.
In Through the Gates of Thought, the author writes about everyday events, common thoughts, and normal issues – but with a style that distils the key essence of life's lessons. Read the articles, get entrapped in the emotions of the poems, and travel with him in the stories of his life and others. You will feel that these are your thoughts as well! The stories will cause you to pause and think, think and reflect, reflect and take action – an action for a positive change. Through these, the author seeks to affect his society, community, and continent – one mind at a time.
In this, his second book of stories, articles, aphorisms and poetry, Nana Damoah's style is graphic, entertaining and indisputably Ghanaian. Whether he is lauding the efforts of his countrymen, exhorting everyone to thoughtfulness and faith, deploring the politicisation of local issues or making astute comments on his schooldays, he is frank and 'in your face' Seriously funny, amusingly instructive and liberally Christian, Damoah offers insights from many sources and hope for the future for his pioneering homeland. He has, like some clever spider in folklore, spun a glittering web of words in our path, trapping many tasty ideas. These we can consume at our leisure, through the gates of thought.
Released in April 2010 and published by Athena Press London, 'Through the Gates of Thought' is available on Amazon US, Amazon UK, and on other online outlets. It will soon to be available in his home-country, Ghana.
Nana Awere Damoah is a reflective thinker and engineer, a passionate believer in the good of man, determined to leave his thoughts for posterity. He is a Ghanaian Chevening alumnus educated in Ghana and the UK, and author of Excursions in my Mind. Nana keeps a blog of his articles at www.excursionsinmymind.blogspot.com.