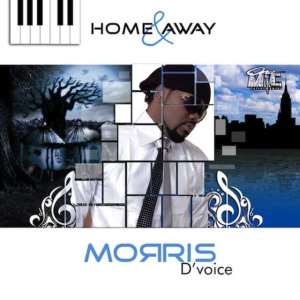 Morris DVoice Home And Away
Marx Morris Twumasi, AKA Morris D' Voice who has recently been known by all music lovers for his singing aptitude is to be officially unveiled to music fans in Ghana and around the world. Come the 26th of June 2010, the Silver Bird Lifestyle store at the Accra mall will come alive with Morris D'voice as he promises all who will attend the event a dazzling and thrilling showdown while he does what he knows how to do best, singing.
From 2:00 to 5:00 pm, on the Saturday, music fans are expected to throng the exquisite Silver bird store as there would also be free autograph signing by the singer. The album to be launched along side the prolific singer is entitled "Home and Away" and is expected to make huge impact on the Ghanaian music scene and around the world. The album has eighteen sensational tracks including the famous "shame on you", "valentine" to mention a few. Come June 26, the album will also be available from iTunes (US, Australia/New Zealand, Canada, UK/EU, Japan, Mexico), Amazon.com, Napster, Zune and other world wide music stores.
Other new hit tracks comprising, "I love you", "crave", "could this be love" and others are likely to change the RNB industry in Ghana and make waves overseas. Until not too long ago, Morris has been known for the sound engineering aspect of his career which has produced countless hit songs both in the secular and the gospel fronts.
In an interview, Morris reveals he begun singing in church while he was still a toddler and also coming from a musically inclined family, there was very little he did to be able to sing. "My father use to be a musician in the late 80's and also my family is blessed with music. Some of us sing, drum and play instruments very well and this shows that music is in me and am in music" he continued.
Morris began his singing professionally way back in the days of Kontihene when he sang the chorus of the "Akatasia" track which became an instant hit. He further featured on tracks of numerous artists and produced their beats as well and was prominently featured on the Gospel scene when he did a couple of tracks with the award winning Esther Smith.
As to whether he was going to quit being a sound engineer, the singing genius says that would be the last thing he would do since he loves music and see producing it tehnically as his hobby. Morris D' Voice who recently signed on for One Mic entertainment has expressed his readiness to launch into higher heights with more spectacular and mind boggling music as he is now going into full time music in addition to his sound engineering.
LAUNCH AND AUTOGRAPH SIGNING
A ONE MIC ENTERTAINMENT EVENT SPONSORED BY 4SYTE, FIESTA, AND SKYY GROUP OF COMPANIES,SILIVERBIRD
XFM - OFFICIAL RADIO SPONSOR
INTERNET MEDIA SPONSORS - ghanacelebrities.com, ameyawdebrah.com, africanpromo.com, myjoyonline.com, sribuo.com
ARTISTES
LYNX, ONE MIC AND BLACAPRICORN(KOD'S LABEL)
Credits - One Mic Entertainment