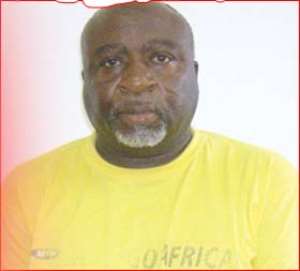 Sam Sarfo Kantanka
THE 56-YEAR-old music producer who attempted to export cocaine abroad but was arrested by Narcotics Control Board (NACOB) officials at the Kotoka International Airport (KIA) has been sentenced to ten years' imprisonment in hard labour.
The producer, Sam Sarfo Kantanka, had admitted swallowing 96 pellets of cocaine when he was brought before an Accra Fast Track High court to face two charges of attempted exportation and possession of narcotic drug.
Kantanka repeated his earlier confession when the court asked him to tell his story as he had on the last adjourned date. He said "My Lord, I did it. I am guilty of the offence.
There is no need for remand, just sentence me so that I can go in peace".
Following this, the trial judge, Justice Charles Quist, convicted him on his own plea and sentenced him to serve 10 years in prison on each count to run concurrently.
The trial judge, who made an order for the pellets to be tested, disclosed that a report from the Ghana Standards Board had confirmed that the pellets were cocaine with net weight of 1,162.5310 grams.
Justice Quist subsequently ordered that the exhibit be destroyed in the presence of NACOB officials, police, and court officials.
The facts of the case are that Kantanka, a resident of Sowutuom in Accra, was arrested on Tuesday April 27, 2010 at the KIA on suspicion that he was carrying narcotic drugs.
He had attempted to smuggle the narcotic substance on board a British Airways (BA) 78.
According to officials of NACOB, Kantanka, upon his arrest, expelled all the 96 pellets of the narcotic substance he had swallowed.
He was using a Ghanaian passport with number H1894034 and while going through boarding formalities, his urine was tested and it proved positive for cocaine.
He was then picked up for interrogation during which he admitted swallowing cocaine.
Kantanka then told his interrogators that the narcotic drugs were given to him by a man called Stone to be delivered to one Obroni for a fee of £4,000.
The prosecution said Kantanka used two days to expel the 96 pellets.
By Mary Anane