May 21, 2010
|
General News
A Tale from the Premier of Cos ov Moni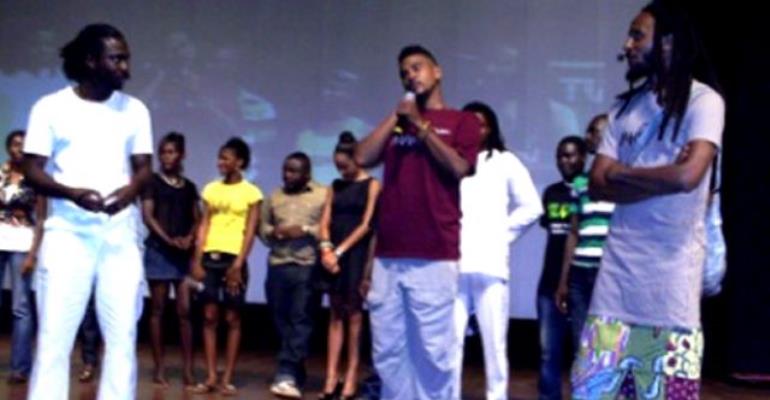 Imagine two 'crazy' friends/musicians venturing into the movie terrain for the first time and after all the hype, appear on their unusual 'red' (local shred mat) carpet to the amazement of many movie enthusiasts who attended the premiere of their movie, 'Cos ov Moni' at the National Theatre Saturday night.
The movie, described as the world's first ever pidgin movie and Ghana's first original music satire movie started receiving great previews before the premiere and it witnessed an invasion of movie lovers who wanted to be part of the history.
Wanlov the Kubolor and M3nsa were 'mugged' by the massive press attendance when they made their way to the supposed red carpet and after answering a few questions, they made their way into the viewing hall for the movie.
'Coz ov Moni' is the story of an extraordinary day in the life of two ordinary young men (Wanlov the Kubolor and M3nsa) in a 21st century Africa.
On a normal morning in Gbese, Accra, the FOKN Bois wake up and plan to go clubbing with some lady friends after chasing an evasive debtor for their money. Little do they know that their free-spirited and seemingly conceited attitude will make them a few enemies as the day progresses.
'Cos ov Moni' also stars popular artistes Reggie Rockstone, Samini, Macho Rapper, Panji Anoff and several others. It is written by Wanlov Kubolor and M3nsa, directed by King Luu of Luu Vision and produced by Panji Anoff.
It was the usual satirists Wanlov the Kubolor and M3nsa in their elements in the movie and the packed crowd could not resist but to laugh and clap. The movie had two showings that night, the first 6:30 pm was followed by a second showing at 8:30 pm.
Many movie enthusiasts who spoke after the movie premiere were very impressed and described it as one of the best movies ever.