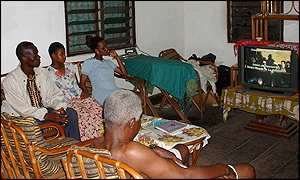 Accra, June 2, GNA - Multichioce Ghana, a local partner of Multichoice Africa, has introduced a new analogue pay television service called Real TV.
A press release from Multichoice Ghana copied to the Ghana News Agency said Real TV had five exciting channels namely, Super Sport 4, Channel O, TBN, Africa Magic and Ahara.
The service would be provided at a minimal cost of 12 dollars per month with a start up cost of 64 dollars for installation and equipment. The service would be available free to air during open block segment from 1800 hours to 2000 hours each day.
The statement said SuperSports 4 is a sports highlight channel dedicated to all sports activities.
TBN is Christian-based television channel which runs daily, dedicated to showing programmes to meet the needs of the body, mind, soul and spirit of all Christians of ages, 24 hours a day. "Channel O, a leading music television station and one of the most highly regarded outlets for African talent and music videos on the continent would be dedicated to 24 hours music from hip pop to soul music."
The release said the Ahara Channel would have Ghanaian content showing local production, drama, and films.
Ms Ann Sackey, PRO, of Multichoice Ghana, told GNA that the introduction of Real TV by Multichoice Ghana was to ensure that as many people as possible had access to the great programming.
"Many people would like to subscribe to Digital Satellite (DStv) television but due the fees that multi choice charges for the instalment and monthly subscriptions many people are not able to subscribe thereby causing the company to introduce this service."
She said Multichoice Ghana bought the programmes from Digital Satellite Television (DStv) at a huge cost and there was little that her outfit could do about reducing the cost of subscription for DStv.