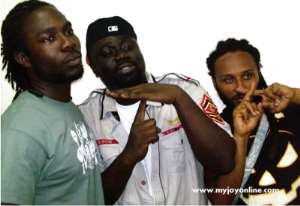 DJ Black and the FOKN Bois

If you failed to tune in into last weekend's Open House Party on Joy 99.7 FM, then you definitely missed a lot because 'Female vocalist of the year' and the 'Record of the year' winner at the this year's Ghana Music Awards, Becca and the unstoppable rap duo, FOKN Bois (Wanlov Kubolor and M3nsa) made an appearance on the show.
It was four hours of non-stop live performance, good music with the FOKN Bois bringing their humor and 'madness' to bear.
Enter gallery from link to view photos of the show this link.
You can also click on the link for a podcast of the show this link.
By Ernest Dela Aglanu/Myjoyonline.com/Ghana