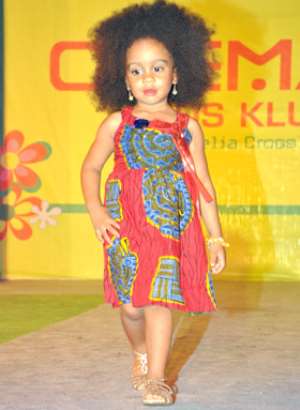 THE CELEBRATION of May Day was not only about music and movies. Ophelia Crossland, a fashion designer, also treated her fans to a modeling extravaganza.
The maiden edition of the much anticipated fashion show dubbed 'Rhythms On Da Runway', took place at the Headlines Hospitality Hotel last Sunday.
Patrons defied the heavy rains and trooped to the venue to catch a glimpse of cat walk models from Ohemaa Kids Klub, and the stars who were billed to perform.
The event, which kicked off at 8:30pm with an exhibition of fashion-related products and services, saw some dynamic and amazing performances from kids of the Ohemaa Kids Klub, to the delight of fans and dignitaries.
Music stars who thrilled the audience were Kwabena Kwabena, Nii, I Wan and the new sensation Nana Boroo of 'Ahayede' fame.
Wutah did not show up although the organizers promised that the duo would honour its invitation to perform. Reports however reaching BEATWAVES indicates that the duo have decided to pursue solo careers.
In a chat with BEATWAVES, Ophelia Crossland said the idea behind the event, which was developed by her husband Kofi Okyere Darko (KOD) of Radio Gold, was to help promote local made designs.
According to her, the fashion industry in Ghana has great prospects as the up and coming designers, as well as those who are already in the business, are working tirelessly to help raise the stakes.
Ophelia Crossland designed clothes for Miss Malaika 2009 and has a clientele that includes personalities like Okyeame Kwame, Mrs. Rawlings, Wutah, Chief Justice G. Wood, Doreen Andoh, Buju Banton, Ramsey Nouah and KKD among others.
The event was powered by KOD of Blaq Kapricorn, in association with Charter House, the Finest Production, UK and Radio Gold.
By George Clifford Owusu