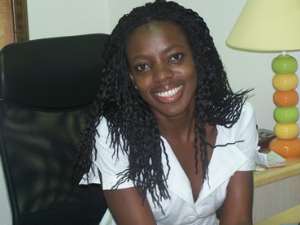 Shirley Frimpong Manso won Best Director with the her movie The Perfect Picture.

Shirley Frimpong Manso, not satisfied with the award she won recently at the 18th Annual Pan African Film & Arts Festival for her movie, 'A Sting In A Tale', has gone ahead to win the Best Director of the Year at the African Movie Academy Awards.
This was at the 6th Annual African Movie Academy Awards (AMAA) held on April 10 in Yenogoa, the capital of Bayelsa State, Nigeria.
The awards is geared towards uniting the African continent through arts and culture as well as honouring hardworking actors and actresses, directors and writers. The event was well attended by numerous celebrities.
Shirley was nominated in the same category with Leila Jewel Djansi (I sing of a well), Shemu Joyah (Seasons of a life), Jude Idada and Lucky Ejim (The Tenant) and Kunle Afolayan the director of 'Figurine' which swept away five awards. She clinched the award with the movie, 'The Perfect Picture'.
Her movie 'A Sting in a Tale' also took home the 'Best Original Sound Track Award'. The successful Ghanaian movie producer, writer and director has already unearthed her Oscar ambitions. Shirley who is the CEO/Director of Sparrow Productions has five popular films to her credit namely; 'Life and Living It', 'Scorned', 'The Perfect Picture', 'A Sting in a Tale' and 'Check Mate'.
Jackie Appiah was also crowned Best Actress. She was nominated in the category 'Best performance by an actress in a leading role' together with Lydia Forson and Naa Ashorkor Mensah-Doku for their roles in Shirley Frimpong Manso's 'Perfect Picture'. The three were competing with Stephanie Okereke (Nnenda), Akofa Edjeani Asiedu (I sing of a well), Flora Suya (Season of a life) and Bimbo Akintola (Freedom in Chains).
Adjetey Anang popularly known as 'Pusher' of 'Things We Do For Love' fame joined the long list of winners as he hooked the 'Best Performance by an actor in a supporting role' for his unique performance in Shirley Frimpong Manso's 'Perfect Picture'.
'I sing of a Well' which had 11 nominations swept away three awards in the categories; 'AMAA Achievement in Sound', 'AMAA Achievement in Costume' and the 'Best Screen Play'.
Nigerain actor, Ramsey Noah walked away with the 'Best Performance By an Actor in a Leading Role' (Best Actor) award disappointing his colleagues; John Osei Tutu, Lucky Ejim and Odera Ozoka who were eyeing the same award.
The Nigerian movie Figurine, directed by Kunle Afolayan beat them all with five awards.



Below is the full list of winners in the competitive category :


Best Documentary
Bariga Boys (Nigeria)
Best Short Film
The Abbys Boys (South Africa)
Best Animation
Hanayns Shoe (Egypt)
Best Film by an African Filmmaker in Diaspora
Soul Diaspora
Best Film in African Language
4. Imani – (Uganda)
Heart of African Award for Best Film from Nigeria
Figurine - Kunle Afolayan
AMAA Achievement in Sound
I sing of a well
AMAA Achievement in Editing
The Child
AMAA Achievement in Art Direction
Fulani
AMAA Achievement in Make-Up
The Child
AMAA Achievement in Costume
I sing of a well
AMAA Achievement in Visual Effect
Figurine
Best Original Soundtrack
A sting in a tale
Best Performance by a Child Actor
Teddy Onyago and Bill Oloo - Togetherness Supreme
Most Promising Actress
Rahema Nanfuka – Imani
Most Promising Actor
Wilson Maina – Togetherness Supreme (Kenya)
Best Performance by an Actor in a Supporting role
Adjetey Anang – The Perfect Picture
Best Performance by an Actress in a Supporting role
Tapiwa Gwaza – Seasons of a life
Best Performance by an Actress in a Leading role
Jackie Appiah – The Perfect Picture
Best Performance by an Actor in a Leading role
Ramsey Noah – The Figurine
Best Screenplay
I sing of a well
AMAA Achievement in Cinematography
Figurine
Best Picture
The Figurine (Nigeria)
Best Director
Shirley Frimpong-Manso- The Perfect Picture