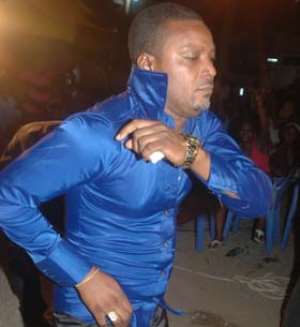 Slim Busterr
CITIZEN KOFI is expected to 'explode' this Saturday with the best of local contemporary highlife tunes as Ghana's darling dancer Slim Busterr is scheduled to give fans a fresh taste of his stage acts.
Slim, alongside his dance machinery, is expected to perk up his acts while he rocks patrons of the modish entertainment center.
He will be performing songs from his albums 'Masanaba', 'Eye Fe Keke', Mina, Baby, and 'Marsherita', as well as his new one which has yet to catch on with music fans.
His performance forms part of an every Saturday entertainment offer for center's patrons.
Last week Saturday was Kwaisey P's turn on the CK stage. Even though patronage wasn't as expected, he managed to hold his own as he took fans back with tunes from old and new albums.
After his performances, patrons, most of whom included members of the inky fraternity, moved on to Citizen Kofi's cozy nightclub till the early hours of Sunday morning.
A couple of weeks ago, vocalist Kwabena Kwabena set the music rave at Citizen Kofi rolling with a pre-Val's Day bash.
After Slim Busterr's act this week, Saturday March 6 is expected to be a blast with Ghana's acclaimed king of comedy Kweku Sintim-Misa (KSM), as he puts to play parts of him that are not yet known.
After him comes Tic Tac the following week. Obour, Paulina Oduro and the All Female Band will continue the weeks after. On Saturday April 3, as part of Easter festivities, a surprise package is being put together for Citizen Kofi's patrons.
Slim Busterr's act is expected to attract a lot of fans, in spite of other events all over town.  
 By Francis Addo