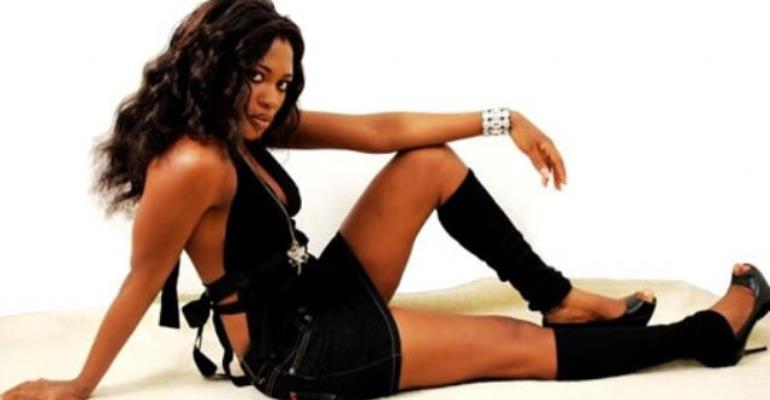 Ghana's music industry like elsewhere is dominated by men but the minority population of female musicians, generally manages to meet the men chord for chord and often exhibit more class than their male counterparts.
Eugenia Asabea Cropper, Paulina Oduro, Akosua Agyepong and a host of others, attest to the growing cliché of 'What a man can do, a woman can do it better', as their performance over the years exceeded basic industry standards.
A new generation, including Mzbel, Sherifatu Gunu, Nana Yaa, Efya, Irene and Tiffany among others have become household names now...
Last year, urban radio gave much airtime to the new CD of one of a new contemporary female voice to the extent that she gained instant overnight stardom and got her a place in the league of extraordinary female musicians in Ghana.
Born Mildred Ashong, Eazzy is not your type of very calm and reserved female musician. Her's is a perfect semblance of what the likes of Missy Elliot, Eve, Da Brat and Cassie have in common. With a combination of very good lyrics, Eazzy is the latest addition to this growing list of female acts that have refused to bow to the dictates of the industry. The talented artiste has always been a firm advocate in taking things easy and going through life with confidence, hence her stage name Eazzy.
Eazzy's 'Bo Wonsem Mame', released on Friday 13th Nov, 2009, gained nationwide reviews after intense banging in the clubs and at some of the nation's cities hot spots for some time. Even then, she was barely known, at least in showbiz circles.
Just when music fans and almost every other city head banger was getting into the 'Bo Wonsem Mame' groove, the tom boy-like and fair complexioned lady with the able backing of Producer Richie, under the Lynx Entertainment label, is out with yet another club banger.
Titled 'Wengeze', the song has already found a place in the playlist of disc jockeys and a hot favourite of the youth, most of whom fall for the very funny lines Eazzy introduces in the song which they are familiar with. Words like 'Shupero' and 'Pore apeshu' taken from mid 90's Shaba Ranks hits and a personal favourite of many back then, was repeated many times in the three hook track.
On 'Wengeze', Eazzy deviates from crunk music, a genre her label, Lynx are accustomed to and experiments with metal music, a sub-genre of rock music made famous by the likes of Judas Priest and Rob Dickinson in the mid 80's with roots in blues and characterized by highly amplified distortion, extended guitar solos, emphatic beats, overall loudness and rock sensibility with emphasis on speed. Heavy metal lyrics and recital styles are generally associated with manliness and machismo, one that Eazzy is made of.
To make her latest LP more adored by her loyal fans, Eazzy is embarking on a nationwide tour of some of the major night clubs and public places in the country.
On 19th February, she makes her first stop at the Sunyani Polytechnic Auditorium where she is billed to perform to students of the institution. This would be followed by shows at the Kiravi Night Club on 20th February, in Kumasi, Paragon Night Club in Takoradi on 26th February and a final stopover at the Aphrodisiac night Club in Dworwulu on 5th March.
She would be joined on tour by other artistes from the Lynx Entertainment label: Asem, Richie, OJ Blaq and recently signed-on act Zigi.
The reviews after the tour would be rave as usual, not just because of her good looks or ability to woo fans over with her metallic stagecraft but being able to turn an effortless song fuelled by established thematic hooks and clicks, into a huge club banger. It's Por aporpi shwri...aporpi...aporpi ra pa raa... 'Wengeze', in a club near you... Eazzy Baby...