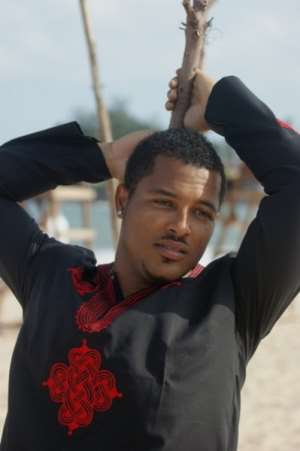 Van Vicker can only fight over Nadia in movies but not in reality. Truth-bankrupt writers and rumour makers who had been echoing that Van and Nadia were love birds behind cameras would now hide their heads in shame.
He disclosed this in an interview held recently about his life story.
"We never dated. As at 1999, we were close, now we are not so close and that is the truth. We were close because we started acting together way back in Ghana and we were paired up a lot of times. I think for the first five movies I did, she was there and so, we became close. I didn't get close to Jackie like that because Jackie was always on the other side of the film. You know it was usually Nadia and I that were having the love thing going, but until she got involved with ACN, she started traveling a lot and doing other stuff. So that bond was lost because she is on a different level now. At a point in time, she wanted to stop acting, whether it's true I don't know. But for me, she just disappeared at a point in time."
Van and his wife, Adjoa have been together since 1994, dated for sixteen years before they finally tied the knot six years ago.
"Several websites said that we went for the Fifth Continent Awards in US and that I was acting as a body guard to Nadia that I wasn't wearing my ring or hiding my ring," he complained. "Why would I be hiding my wedding ring when the whole world knows I'm married? Some people even said Tonto and I were caught in bed. Actually they cut the picture off a movie and pasted it and said we were dating."
When he was asked about his nationality,the global citizen, as he described himself continued to tell us more about his personal life;
"For me, I see myself as a global citizen. I am a hybrid of three backgrounds. My dad is Dutch; my mom is part Ghanaian, part Liberian. So, that makes me quarter Ghanaian, quarter Liberian and half Dutch. Whenever I find myself in Liberia, I tell them I am from Liberia. When I am in Ghana and they ask me where I come from, I will tell them I am from Ghana and when I am in Holland, Amsterdam or wherever, I tell them I am a Dutch man because that is the truth. I can't run away from it. I have their blood running through me.
Whenever I talk about my dad, tears flow from my eyes. I always say, the fact that I didn't grow with my father made me very strong. It got me determined because I knew there wasn't a father there to point you out."
Van Vicker has many expectations this year. To boost his humanitarian foundation for the benefit of the future leaders is his number one priority. He would also like to be part of the benefit cause in Miami to help raise funds for Asians. Producing perfumes and condoms are few to be named.
One of his biggest regrets in life is the fact that he never went to the university.