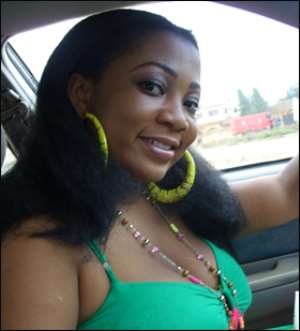 Vicky Zugah
It is believed that female stars, be it movie or music stars, attracts the best men as suitors or like the saying goes "every nice looking young lady is already taken". But contrary to the above or what most people assume or believe in, one of the maturing actresses in the Ghana Film Industry Miss Vicky Zugah has not still found her missing ribs yet.
When asked if she is still single, Miss Zugah was quick to answer in affirmative. She revealed in an exclusive interview with GhanaCelebrities.Com, that her job as an actress has tied her down to the extent that, it is gradually affecting her chances of meeting the right suitor to settle down with.
"YES! Am still single, because my career keeps interfering with my chances of getting the right suitor", she said disturbingly.
Knowing very well that ladies are like flowers that flourishes for certain period and fades out the next moment, she further disclosed that she's not too sure if the men that come her way, really loves her or just want to 'hit' and 'run'.
"Plus at this point am not sure what exactly these men want from me, if they truly love me or only want to have a "bite" because am on TV".
Though, there have been some delays with her meeting the right suitor, she still wouldn't mind acting nude, but only on one condition; if it's worth it and sends a good message at the end of the story/movie.
For now, Miss Vicky, will keep her hands crossed with the hope of a real man approaching her but not men who wants to have a bit of her because she is a star and run off.
Her being in the movie industry was pre-ordained; she just became a star on a plate of gold, as she chooses to call it. "Let's just say am one of the few lucky ones who had it on a plate of gold. No stress at all".
Although, she didn't have any intention of becoming an actress at all, consistent complements she receives from friends and close associates like "you are a star material, you have the face, you should try acting as a profession" drove her into the movie industry with "Trokosi" as her first movie, which also starred Jackie Appiah and the late Suzzy Williams.
Vicky Zugah was born on 11th October to Mr. Komla Zugah and Miss Beatrice Patu both from the Volta Region of Ghana. She is the third child of three siblings. She loves to watch movies a lot and read when she is not on set.
She desires to work with anyone above her in the movie industry in other to enable her acquire more experience in the profession. A good movie inspires her a lot and challenges her to do much better.
After hard days work, she will settle on banku with okro stew. She has these movies to her credit 'The Bible', 'The Return Of Beyonce', 'Tears Of Womanhood', 'Pretty Queen', 'True Colours', 'Girls Connection', 'Big Girls Club', 'Araba Lawson', 'June 4th', 'My Dearest Princess', 'Cross My Heart', 'Total Exchange' and many more.
Ghanacelebrities.com will publish our full exclusive interview with Vicky Zugah soon, keep popping the coin to catch up with us here…
By Ebenezer Anangfio Jnr.