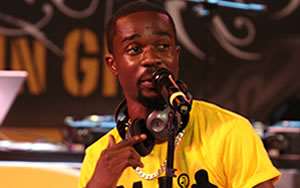 Year 2009 was another good year for entertainment and of course the biggest highlight for me has to be getting a website in my own name - Laugh out Loud! But seriously though, the year saw so many highs and a few lows that I believe would position the sector for growth in years to come. The year saw an influx of musicians and unfortunately there were more whack ones than there were good ones and thanks to Crystal TV, we saw the distinction quite clearly. We also saw some quality movies and movies that just got noticed for all the wrong reasons.
2009 saw the Ghana Music Awards turn 10 and bigger. In spite of hosting the ceremony in a much bigger space that seated 6,000 people and 'stood' a few more, there is still a lot of room for improvement in terms of structure. Leaner surely would have been better and 3 hours maximum for duration would have been ideal but of course that's not what happened. The hosts dragged the show on and on and on, and some artists on the bill performed more than one song; some of them literally took the opportunity to sing all their hit songs in the past 10 years. Just Kidding! I am still trying to understand why Dbanj and the other Nigerian acts were saved for last. Although Sway isn't the best stage performer I think it would have made better sense if he was even made central to the show, after all he is Ghanaian and internationally recognized. Anyway the winners of the awards to a great extent deserved their honour and I can't wait to see who wins what in 2010.
Talking about music and possible GMA winners for 2010, there is no way anyone can ignore Sarkodie. He had a very good year with his debut, 'Ma kye' spotting more than 4 radio hits. The album for me is one of the best rap albums out of Ghana since the birth of hiplife. From start to finish, I enjoy every track on the album, something that is rare in today's music industry worldwide. Well, there are talks that his sophomore, 'Rapaholic' would be out soon and I can't wait to hear his new stuff. My advice is that he should lose the "one time for your mind" and other jargons on the next album so it would show more progression as an artist.
Ayigbe Edem was another great product out of 2009, his skills as rapper and the sheer pioneering role in making Ewe rap appealing is something that I would respect him for. It is no surprise that before long, so many people from the Volta Region started rapping just like him. His stage performances throughout the year were also very exciting to watch. According to Confidence Haugen, the rapper has other hidden skills too…lol! Of course the Tema takeover that started in 2008 took flesh in 2009 with more promising talents emerging from the port city. With engineers like Kaywa and Killbeats behind these acts, certainly we haven't seen the last from Tema. Talking about budding talents; although we are fully aware of the abilities of Jane Awindor from the Stars of the Future and Irene & Jane days, this year we got to experience more of her talent and her rebirth as Efya.
2009 was also a year of comebacks. A revitalized 4x4 came back strong with a new member; Fresh Prince who certainly saved the group with his smooth vocals and broke what was fast becoming an annoying monotony of unnecessary shouting in the group- Abortion bites this bullet. Anyway, the group scored two of the biggest hits of the year and is in clear contention for some GMAs. While the introduction of one member of a group brought 4X4 success, the unfortunate ailment suffered by Kunta Kinte of Bradez crippled the group in many ways as Stone was left to perform alone most of the times. It was heart-warning to know towards the end of the year that Kunta was making progress with his recovery when he stormed the stage with an emotional performance at Miss Malaika 2009. I wish him a speedy recovery and God's blessing.
Okomfo Kwadee also came back strong after a long break and reported mental illness. He shocked Ghana with concerts in Accra, Kumasi and other venues with more slated for 2010. But of course, the comeback that generated the most buzz had to be Obrafour's return with 'Kasiebo'. The well crafted and unapologetic song caused a stir on the hiplife scene and I have a feeling it isn't over yet. However, I have heard a few of the tracks on the album and I think it may not be as strong as previous albums from the rap executioner. But with his experience and fan base, anything is possible. VIP had a great comeback as well but we will see more of that in 2010.
On the Gospel music front, it was the year for the new breed of artists to shine and not so surprisingly, most of them did it on the wings of ace sound engineer, Nacy. Amongst those that had a good year were, Ewura Abena, Tina Asante, B&D and many others. For me, the only old face that made a huge impact was Florence Obinim but some of her hits were popular English songs which were translated into Twi so I wasn't feeling her too much. Well, who can blame her, that's how she rose into the business. Daughters of Glorious Jesus made a return but it may have not been as glorious as they hoped for.
Sadly in 2009 we lost Michael Jackson and although he may not be Ghanaian, his death impacted on music globally. If not, why would Richie put up a Michael Jackson act on stage with the full complement of gloves and hats more than once? How about 'rap doctor' Okyeame Kwame doing MJ songs and dance moves? Hmm, may his soul rest in perfect peace! Oh by the way, Busta Ryhmes also had a concert in Accra, hurray!!!
Enough about music, let's talk about fashion. The Ghana Fashion Weekend returned on a bigger scale and with bigger risks. A few weeks after, Sima Ibrahim, CEO of Exopa Model Agency, and the brain of the fashion week was arrested on drug trafficking charges. Such a big blow to the industry only days after a glitzy 4-day event that saw fashion designers from Ghana and across Africa showcasing creative designs to the world, with special guest Boris Kodjoe in attendance. I was happy to see Canoe 53 put together a Christmas fashion fair. Fashion will not be canned with Sima!
In 2009 Ghanaian movies certainly showed a lot of resilience with some really good movies. While some worked hard to sell sex some went a step further to tell a good story. Shirley Frimpong-Manso started the year well with the acclaimed 'Perfect Picture' and ended on an equally good note with 'A Sting in a Tale'. Clearly, exploring the fanciness of urban life works for her, people love it and I have a feeling that we will see more from her in the coming year. My favourite movie of the year without a doubt was 'I Sing of a Well'. The story was so well told, the pictures were good, and likewise the sound. The simple fact that for the first time a Ghanaian was bold enough to attempt a proper trilogy with such richness in story just excites me. But sadly the uncertainty surrounding the 'Legion of Slaves' trilogy due to the fallout between Akorfa and Leila has left me confused. Word on the street is that they run out of money to carry the project through and so decided to deceive us with their well publicized fallout.
So here you have it, my highlights for 2009. Maybe I would have had more highlights if Charter House invited me to more of the events; like KKD invited me to my first ever Kojo Antwi Experience. Just Kidding! I leave you with winners of the Jaded Renegade Awards for 2009.
Worst Actress
Jackie Appiah as an old woman in Heart of Men
Worst Movie
www.fateofthefaithful.com
Worst Actor
Ruffy Samuels Quansah in www.fateofthefaithful.com
Worst soundtrack
Unfaithful OST for www.fateofthefaithful.com
Best Actor
JOT Agyemang in I Sing of A well
Best Actress
Naa Ashorkor Mensah-Doku in Perfect Picture
Artist of the Year
Sarkodie
Worst Artist of the year
Watch Crystal TV
Flop of the year
Miss Ghana 2009
TV Station of the Year
Viasat 1, just bring us new programs and you'll do just fine
TV Program of the Year
Allo Tigo
Best Singer of the Year
Efya Awindor
Radio Station of the Year
Y-fm until there was X
Comeback of the year
Okomfo Kwadee
Biggest heartbreaker
Kwabena Kwabena
Biggest philanthropist
Ayigbe Edem
Best concert
'Mia Me Nie' Okomfo Kwadee
Most Talked about song of the year
Kasiebo by Obrafour