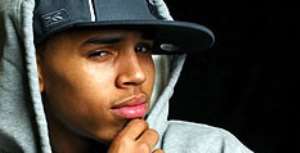 Chris Brown is furious major US stores are refusing to stock his latest album. The 'I Can Transform Ya' singer - who was convicted of assaulting his then-girlfriend Rihanna in February, leaving her covered in cuts and bruises – has posted angry messages on his twitter account blasting stores who refuse to sell his LP 'Graffiti'.
He wrote: 'I'm tired of this s**t. major stores are blackballing my CD. Not stocking the shelves and lying to customers. what the f**k do I gotta do? (sic)" He later added: 'WTF... yeah I said it and I aint retracting s**t.
"I'm not biting my tongue about s**t else... The industry can kiss my a*s. (sic)" Chris, 20, has received widespread criticism for his attack on Rihanna, 21, following a pre-Grammy Awards party.
He was found guilty of the assault and ordered to carry out 80 hours of community labour, undergo 12 months of domestic violence counselling and received five years probation for the incident. He also has to stay at least 100 yards away from Rihanna for the next five years.
Since the attack, Chris vowed to "learn from" his behaviour. He said: "Domestic violence is totally wrong whatever the circumstances, no exceptions.
"I'm only 20. This is a bad mistake I made, but one that I'm not denying nor running away from. I don't believe I should let it shatter my life.
'I'm owning up to the wrongs I've done and am working on myself. I'm trying to find the positive amid the negative. I'm urging people to learn from what I did and not take the same route. If I do that - act as an example - then I feel I have no reason to go through the rest of my life with my head hanging down."
Originating at www.pinnaclegh.com