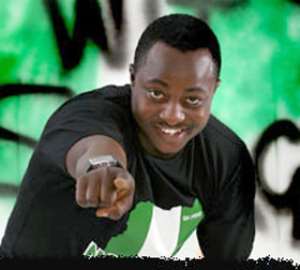 Kevin Chuwang
KEVIN CHUWANG, a 27-year-old Nigerian, has won $200,000, the biggest cash prize in Big Brother Africa history.
He was declared the Revolution winner after beating Emma, Edward, Nkenna and Mzamo, the remaining 4 housemates.
Kevin, the obvious crowd favourite, got votes from 11 countries including Ghana, followed by Emma who had votes from 2 countries. Edward and Mzamo had votes from 1 country each, while Nkenna ended up with no vote at all.
After Kevin was proclaimed the winner, Emma could be heard telling him, "I told you... I told you", as Kevin looked on in astonishment.
"I feel like Obama right now," he said to the ecstatic audience and millions of viewers across the world, as he did a dance for their benefit. He was eagerly hugged by family members who were waiting to receive him.
As he pulled on his 'Support Kevin' T-Shirt, he thanked everyone who had voted for him on the African continent. Kevin is believed to have won a lot of people over due to his charisma.
"Thank you for believing in me. I won't let you down", he promised.
Edward, the second runner-up, left the house with $2,757 while Emma, who was the 1st runner-up, left the house with close to $3,000.
The grand finale also witnessed exciting performances from US rapper Bow Wow, who treated the crowd to some of his old and new hits. This year's show saw a total of 25 housemates vying to be the ultimate winner. Ghana's only representative, Ras Wayo, was evicted after the show had run for only a week.