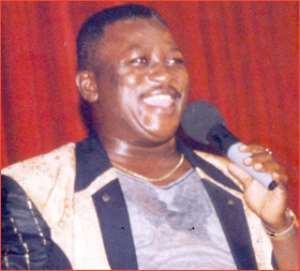 Nana Tuffour
COME FRIDAY December 4, music lovers will have the singular pleasure of being treated to the pulsating sounds of Ghana's seasoned high life music maestro .
The live concert dubbed "Farmers Day Bash", which takes place at Fridays, a popular joint located at Sakumono Estate, is anticipated to be an evening of live band music which seeks to promote and preserve the fine culture of high life music and dance in Ghana.
The Farmers Day Bash at Fridays is the perfect opportunity for a mature audience who want to enjoy great music, dance and meet people.
According to the organizers of the event, which features renowned high life musician and hip life star, KK Fosu, the show not only aims to reawaken the art of live band performances, but inspire the younger generation.
Apart from the fine music, patrons could help themselves to a mixed grill palate, chilled Club Beer, and a super networking prospect.
The night will be one of extraordinary sound power and thunderous performances by supporting artistes.
Reports indicate that is excited about the upcoming event since he will be performing with KK Fosu for the first time in many years. He is therefore busily rehearsing.
The concert is being organized by the producers of Delay on TV3, Excellencia, as part of the organization's contribution to the growth of the music industry. At the concert, music lovers will have the chance to also interact with all the artistes.
The event, which will be yearly, is being sponsored by Club Beer and Smooch. There will be free drinks and other souvenirs from Club Beer and other sponsors. 
MC for the event is Ageorgia, sports presenter on Oman FM in Accra.
By George Clifford Owusu