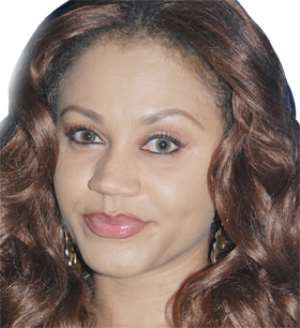 Nadia Buari
BUBBLY FILM goddess has said she has not regretted her decision to go into movies.
Speaking in an exclusive interview with BEATWAVES, the light-skinned actress described her experience in the Ghanaian and Nigerian movie industries as one replete with a lot of fun.  
"I am very much enjoying it because it is a career I chose. It is something I always wanted to do, so I am enjoying every bit of it".
According to her, she has not thought of saying goodbye to the movie industry one day. "Of course not", she said when confronted with thoughts of the end.
"When I was in the University of Ghana, I was acting part time, but ever since I graduated I took it up full time.
And I'm definitely going to keep doing it, and then in the future probably be directing or producing my own movies because that was what I studied at the University.
I would like to go into other ventures, but all will be related to showbiz", she added. Currently, Nadia said her roles in movies are also widely appreciated internationally; she went on to reveal her Hollywood ambitions.
"To be honest with you, I am not working to stay where I am. Every day, I grow up. Since I started acting, I keep learning new things, and definitely Hollywood is the peak of movie entertainment in the world. So definitely it is a place I have dreamt of.
My plans to get there are my little secrets that I want to keep to myself. You never know who is watching your movie; it probably might be Spielberg, and he could call you to come and act in Hollywood. But it is a lot of hard work, you don't dream that I want to get Hollywood and say I am going to get there.
Then you sit down and put your hand in between your thighs and say you are going to get there. No! You have work hard, and I know that my dream is going to come true", she revealed. 
The actress has starred in over 30 movies since she hit screens after her appearance in the Games People Play TV series in 2005.
Ms. Buari is however not pleased with the local media's 'Hollywood' style of handling issues concerning her private life.
She said the media has become one of the major challenges in her career, aside time constraint and other difficulties every actor faces.
The media, she averred, has been invading her privacy to an extent that "every now and then people are assuming things about me and publishing it".
According to her, even though her fans want to know what is going on in her life, the media must be cautious and respect her privacy, saying she considers matters concerning her relationship private.
"I feel that part of me is very personal, very private, so it should stay that way.
What I am bringing to the public is the movies. It is what I am doing; my job. That is what we should be talking about. I don't like to talk about my private life, and I don't want my private life out there", she cautioned.
The actress is also saddened by comments that she is snobbish. She disclosed that she is an introvert, and as such she always likes to keep to herself. But most people, including some of her colleagues in the movie industry, misconstrue that to mean arrogance and being stuck-up.
"I am extremely quiet because I am a very shy person. You will never know until you get close to me", she said.
She would however not talk about her alleged collapsed relationship with Michael Essien and other allegations about her having a child with a Holland-based Ghanaian.
When asked about her marriage plans, she revealed: "I want to establish myself well before I get married. Before you become somebody's wife, you must have your own life.
I have to work so hard to get to that point of my life, and I am going to continue because I don't think I have achieved enough.
"Marriage kind of pulls you down, it demands a lot and I am not willing to relax, I want to work harder and get somewhere. I will get married, but not anytime soon. Probably a couple of years, I am not sure. But anyway, hey! You never know. I may say this now but tomorrow may come with something different".
By Francis Addo