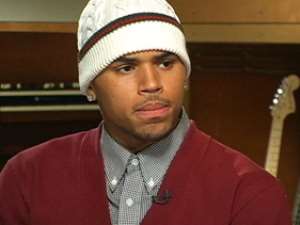 Chris Brown Says He's 'Confused' About His Public Perception In MTV News Special
RICHMOND, Virginia — Chris Brown pleaded guilty to assault back in June after a physical confrontation with then-girlfriend Rihanna. He was formally sentenced in August to one year of weekly therapy sessions, five years' probation and 180 days of community-labor service.
But when it comes to the court of public opinion, Brown is discovering that the ruling hasn't been nearly as swift and tidy.
"I'm confused right now as far as the public perception [of me]," he revealed during the upcoming MTV News special "Chris Brown: The Interview," which airs Friday, November 6, at 6 p.m. ET/PT on MTV. "Like, I think with my fans, they still love me, they support me, definitely. You have those people who will support you. So it's kinda like 50/50 for me. I got the people that will come out and support and then the people that don't wanna see me do anything. They basically want me in jail."
Many critics felt Brown got off the hook too easily for the altercation, which left Rihanna battered and bruised. But his sentence might, in fact, be just as difficult as jail time, according to legal expert Peter Haven.
"Labor service is not a walk in the park," Haven explained to MTV News shortly after the sentencing. "It may be better than spending 180 days in jail, but it's not a walk in the park. ... Remember, if he violates [anything], it'll be a violation against his whole plea agreement."
Brown has recently begun taking the first steps to resurrecting his career. He returned to the stage last week for the first time since the incident and electrified those in attendance at the New York radio festival Powerhouse '09. The singer was energetic and also very eager to show his remorse during his set, telling fans he promised to be a better man.
Next, Brown will set out on a Fan Appreciation Tour later this month, where he'll perform at smaller venues beginning in Houston and finishing up December 15 in New York.
Originating at www.mtv.com