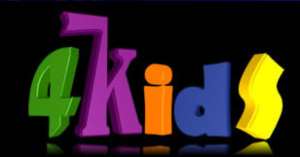 4Kids is Multi TV's channel dedicated to children
Ghana's freest free-to-air television Multi TV's offering for young children, 4Kids, has rolled out a programme to move closer to its target.
Managers of the channel have embarked on a school tour to present to school children the channel's rich mixed-genre portfolio of pre-school and early-school content.
At all times modern in its approach, 4Kidsjoined in the 10th anniversary celebration of Merton Montessori School, Kanda, on Saturday October 31, to present to pupils there the Home of the worlds' best children's TV series and cartoons.
Channel Manager for 4Kids, Abiko Eghagha, said channel delivers content that introduces children to different skills by using original stories, quizzes, humour and music to stimulate their imaginations.
The output is packaged to reflect the needs and mood of children starting with Tot's Arena, a fast-paced, fun-packed game of sounds, words and colours. This encourages learning through play for both boys and girls, she indicated.
Also in the channels bouquet of programmes are L(earning) Zone, which can be viewed for class discussion and Jesus Loves The Little Children, featuring short devotionals, memory verses, important and inspiring characters from the bible in series and epic movies.
After School explores intriguing stories while teleWISH makes watching television the more interactive by affording children the opportunity to send wishes, with pictures, to their friends and family via television.
The interaction with the pupils of Merton Montessori was another feather the channel had dropped in cap as the children punched the air in excitement at the series of programmes shown them – indicating a general acceptance. The head teacher of Merton Montessori, Jacqueline Mmieh Adeti, expressed delight at the collaboration with Multi TV and the rest of the companies which joined in the celebration of the schools anniversary.
The over-400 children played several games including dancing competition with others making their day with two inflated bouncy castles mounted at the school's premises.
Multi TV has, since its inauguration four months ago, embarked on an aggressive advertising campaign that has ensured its presence in close to 60,000 homes across the country.
Story by Fiifi Koomson/Myjoyonline