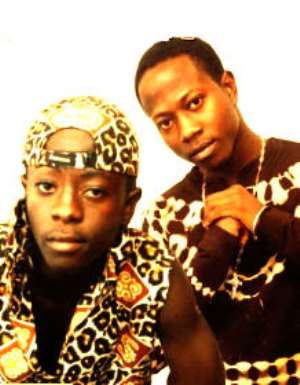 For several months now, the most popular song which is also enjoying constant air play is 'Simple' by the sensational duo Bradez. Music fans who had been anxiously waiting to see the video of the song had their thirst quenched when the video was released about three weeks ago.
The video, directed and produced by Ignace of 4Syte TV, has been met with mixed reactions. Whiles some people applaud it, describing it as great, others think it is generally poor work and that producers could have done better. Bradez, reacting to the criticisms, told Myjoyonline that "the instrumental of the song is simple, simple rap, simple chorus and therefore we needed a simple video."
They added that "we cannot please everybody. He who seeks to please everybody pleases no one. 99 percent of our fans say they love it and that the video was a hit."
"People complained about Okyeame Kwame's 'Woso' video when it came out. They said it didn't fit the song but he won the best video at the 2009 Ghana Music Awards. He also won another award some days ago for that same video. It has been nominated for Channel O Music Video Awards this year."They urged their critics to be constructive in their criticism.
Kunta Kinte who has been away for some time now exclusively told Myjoyonline that "am ready for everybody and Ghanaians should expect my first major stage appearance on November 14 at the Miss Maliaka finals."
Originating at ghanamusiconline.com