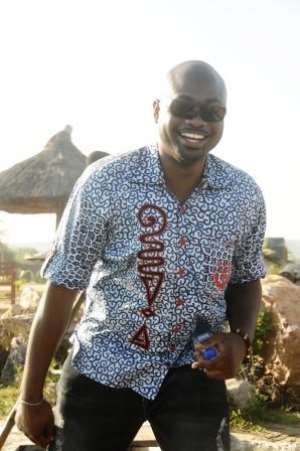 Photographer, Rodney Quarcoo could be described as a God-fearing humanitarian and entrepreneur who loves life, grinds hard and always wears a picture perfect smile. Although Rodney has no professional training in photography, his passion for photography began with photographs of family and friends and has evolved from a hobby to a profession in which he continues to create a niche for himself especially in the areas of wedding, fashion and portraiture.
Rodney has captured the images of people, places and events across Ghana and would soon take on West Africa, Africa and eventually the world. Through his unpretentious approach, he has photographed the likes of H.E John Mahama, Sir Sam Jonah, Kojo Antwi, Ama K, Anita Erskine, Becca and a host of others.
I went behind the lenses to find out what makes this budding photographer tick.
Ameyaw Debrah: What got you started in photography?
I have always been into photography, since an early age. It started with family portraits and documenting what we got up to as a family. I have had no formal training, I have learnt along the way as I grew with the passion.
Ameyaw Debrah: How would you describe your photographic style?
I do not have what one would call a style yet, I am very much into experimenting with various styles/genres of the art.
Ameyaw Debrah: What kind of photography do you do?
Currently, my calendar is full of weddings, engagements & portraiture; every so often I do some Fashion photography which I absolutely love.
Ameyaw Debrah: What are your favourite subjects/themes?
More than anything else, I love shooting people. For me, they are the most interesting subjects to observe and capture.
Ameyaw Debrah: What tools would I find in your camera bag?
2 camera bodies, a number of lenses and some accessories
Ameyaw Debrah: What kind of tools would I find in your studio?
A light meter, flash strobes, barn doors, gel-packs, a couple tripods and such
Ameyaw Debrah: What software do you make use of in your digital work flow?
Adobe Lightroom and Photoshop
Ameyaw Debrah: How do you handle printing your images? Is it done in house or do you outsource to a lab?
It depends on the number of prints and volume of work. Some are printed in-house and some I give to specialist printers.
Ameyaw Debrah: How do you scout and select your locations?
I'm always on the lookout for a suitable setting for a shoot; I have no particular way I scout.
Ameyaw Debrah: Do you make use of available light mostly or do you use supplemental lighting on location?
I do both, but more with "supplemental lights", as a photographer you invest so much getting your kit together, it's a shame not to use them.
Ameyaw Debrah: Which other photographers inspire your work and why?
Steve Ababio and Emmanuel Bobbie, both masters of capturing light, they are technically flawless! Abi Yeni-Rotimi and Ross Oscar Knight, their fabulous images inspire my wedding photography. Sefa Nkansa for his portraits and creative use of colour. Ken Attoh, I love his meticulous post-production.
Ameyaw Debrah: Thus far what has been the best advice given to you by another photographer?
Steve Ababio has been phenomenal with the advice he has given me over time. The most astounding thing about it is we still have never met! Emmanuel Bobbie, I met recently – he too has been gracious enough to spend his time giving me a priceless tutoring without hesitation!
Nana Yaa, Rodne's Favourite Photo
Ameyaw Debrah: What advice would you share with photographers starting out?
Honestly? I'll ask them to find another profession! If anyone says it's easy being a photographer, I'll beg to differ! Anyone entering the profession must be prepared to be a hustler!
Ameyaw Debrah: Are you currently working on any projects?
I am, I won't give too much away, but most of them are long-term projects. Check out my site, www.rqvisuals.com or www.facebook.com/RQVphoto or follow me www.twitter.com/RQVphoto for updates!
Ameyaw Debrah: What particular challenges do you face doing photography in Ghana?
People who want your time and skill for cheap can be very frustrating.
Ameyaw Debrah: Do you have a favourite photo from your collections?
I have a few, but the most sentimental for me was from a fashion spread for a local publication, with a model called Nana Yaa Addo. She was so easy to work with first time we met and from that great energy I shot some superb images! My favourite of the series is one of her in a corner in an abandoned building.
Ameyaw Debrah: If you were asked to shoot photos for a tourism album on Ghana, which 10 places would you shoot and why?
Wow! Ghana is full of fabulous wonderful photo-worthy places; I would not know which 10!
Ameyaw Debrah: What are your top 5 landscapes in Ghana?
McCarthy Hill, Mole Park, the tree tops at Kakum and the next 2 I visit.
Ameyaw Debrah: Which top 5 locations around the world would you like to shoot in?
Why do you always put a number to questions like these? I'm spoilt for choice, but I'll say various locations in Egypt, France, Tanzania, Singapore & Hawaii.
Ameyaw Debrah: Which top 5 people in the world would you like to photograph?
Alive? I'll go with, Nelson Mandela, Steve Jobs, Oprah Winfrey, Jerry John Rawlings and of course, Barack Obama. Dead? Forgive the clichés, but I think it would have been fabulous to have photos of them in any one photographer's portfolio: Princess Diana, Pope John Paul II, Dr. Martin Luther King Jnr, Michael Jackson, and Osagyefo Dr. Kwame Nkrumah