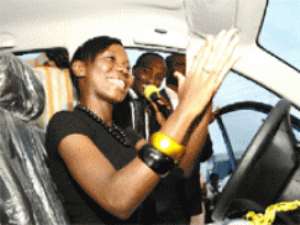 Bertha takes a ride in her car
Winner of the Stars of the Future singing competition, Bertha, has been presented with her prize of a new KIA Picanto, GH¢25,000 worth performing contract from MTN and a recording deal.
At the ceremony for the presentation of the car which took place on the premises of the MTN office at Osu in Accra, Bertha said, "I thank God for taking me through the competition. I learnt a lot from it; the vocal training, communicating the words of your song to your audience, and how to live with people you've never known in the same house in perfect harmony."
During the final event held last August, the 19-year-old Bertha sang with style to upstage the three other finalists Akosua, Nyaneba and Christian.
The first runner-up, Christian, received GH¢2,000 cash, while the second runner-up Nyaniba, won for herself GH¢1,500. Akosua who came fourth received GH¢1,000. Akosua also won the MTN jingle competition where each contestant was tasked to record a 45-second jingle for MTN.
For her prize, she received GH¢1,000 and a VIP package to watch the 2010 World Cup in South Africa.
The eight contestants who failed to make it to the final round of four, shared GH¢3,200 among themselves depending on how many weeks the contestant spent in the competition.
Organised by Charterhouse, Stars of the Future 2009 was sponsored by MTN with support from Somovision, Coca Cola, Max Mart and Castle Milk Stout.