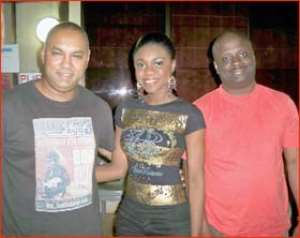 Rick Bacchus, Becca and Kiki Banson
RICK BACCHUS, a leading music producer and song writer in the States has declared his readiness to support Becca in the production of her latest album.
Mr. Bacchus, also the chairman and CEO of Bacchus Music, has produced/written songs for top American stars including Alicia Keys, Stevie Wonder, Christina Aguilera and Backstreet Boys.
His other credits include being a guest judge on American Idol, and winning a triple platinum award from the Australian Recording Association for the Australian Idol finale theme song Always and Forever.
Bacchus was introduced to Becca's producer, Kiki Banson, at a pub at La with a Ghanaian friend.
After listening to some of the songs on her album, Bacchus expressed his interest in the young songstress. Rick Bacchus told Kiki Banson and friends, "Becca is ready for the world. She sings from the heart. She does not need to restrict herself to Ghana or West Africa.
Telling from what I have heard of her music, I believe I can definitely add another flavour that can help take her to another level".
The accomplished songwriter and producer was spotted in a recording studio last week on the Spintex Road producing a song for the Afro-pop artiste, to be included on her upcoming 10-track album scheduled for release in December.
Rick Bacchus' association with Becca has come about purely by chance and the comely songstress describes the situation simply as 'the good hand of destiny at work'.
Becca has been hard at work on a follow-up album since her maiden Sugar collection came out at the end of 2007. She has already put out two singles meant for the new album, the very popular 'Daa Ke Daa' and 'Eti Sen?' The song she is tackling at the moment for the album, with some help from Rick, is Streets Aren't Safe.
Rick is looking forward to collaborating with Kiki Banson, aside from the Becca project, to generally explore and pick the best young music talent on the continent.
"We could make the world stand up and notice Africa in a different light, culturally. The talent is amazing, but I do not think they are getting the right opportunity to showcase it", he says.
The American songwriter and producer intend to now spend a few months out of a year in Ghana. Names of a few other Ghanaian artistes are beginning to pop up on his radar.
He hopes he can pay the requisite attention to them, like he is doing now for Becca, to help popular music from Ghana get better exposure in other places.