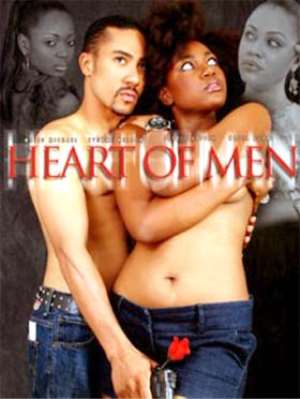 viewers below 18-years of age.
THE LATEST Venus Films movie, Heart of Men, has been criticized for its explicit pictures, to such an extent that some movie critics are calling for it to be banned.
The CEO of Venus Films, Abdul Salam, however rejected claims that the movie was pornographic. "It is because of the way the trailer was packaged. That is why it looked as though it is full of explicit pictures", he explained to BEATWAVES.  
The movie was shown to the Ghanaian press at the Silverbird Cinema in Accra last week. After the event, members of the press were left confused as they did not know what genre to put the movie in.
The movie will however premiere on Friday September 25 at the Silverbird Cinema for the public's verdict.   
Heart of Men, which features the crème de la crème of Ghanaian movie stars including Majid Michel, John Dumelo, Yvonne Nelson, Jackie Appiah and Nadia Buari, among others, is rated PG 18. It is not suitable for viewers below 18-years of age.
The movie tells the story of a young, successful but ambitious actor, Richie Adams (Majid), who stumbles into his old friend Tracy (Yvonne). Richie was interested in Tracy but his rich friend, played by John Dumelo, was quick to move in on her first.
Tracy falls for Richie and together they scheme to get rid of her husband so they can be together and enjoy his wealth. Will the two see their evil dreams come true?
Heart of Men is directed by Frank Raja Arase. After the premiere on Friday September 25, curious movie-goers can catch Hearts of Men on later dates at the Silverbird Cinema.
By Francis Addo